password wallet
Vielleicht ist PasswordWallet eine Alternative zu 1Password – ich probiere dies die Tage einmal aus!
PasswordWallet™ is a convenient, easy to use, safe, secure place to store all your usernames, passwords, PINs, combinations and notes. It just doesn't get any easier than this! Add a record on your Macintosh, synchronize with your Palm compatible PDA, and take your passwords with you! Both the Macintosh and Palm versions encrypt all of their data with powerful 448-bit BlowFish encryption.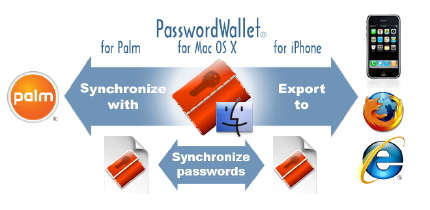 PasswordWallet 4.3.3 for Mac OS X and iPhone:

4.3.3 adds localizations for French and Japanese! Also included is our
"Synchronize Files" Automator Action that is Leopard compatible;
smoothed import from Splash ID; explicit Read Only warnings if your data
is read from a read-only disk or permissions are askew; lots of other
improvements.
-> http://www.selznick.com/products/passwordwallet/index.htm