[game] 2x Binary Square
Binary Square Inc. kündigt zwei native Spiele für das iPhone an und veröffentlicht erste Videos. Hat jemand vom Sommerloch für Videospiele gesprochen?
SpaceOut – a tribute to old school arcade games.
Spinblox – an exciting new puzzle game for all ages. Swipe your finger over two adjacent blox to spin them. Line up 3 or more of the same color blox to create a set. All sets are removed each wave.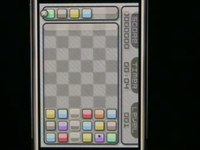 via toucharcade