[Klimbim] 2008-06-18

Die EETimes verkündet, unter Berufung auf Analysten, das Rohmaterial des neuen iPhones würde nicht mehr als $100 kosten.
**

Adobe werkelt mit dem SDK an einer Flash-Version für das iPhone.
We have a version that's working on the emulation. This is still on the computer and you know, we have to continue to move it from a test environment onto the device and continue to make it work. So we are pleased with the internal progress that we've made to date.
John Gruber's Kommentar zur Flash-Performance der mobilen Prozessoren: 'The iPhone's lack of Flash is a feature.'
CounterNotions beschreibt ausführlich den Krieg um das neue User-Interface:
-> The new UI wars: Why there's no Flash on iPhone 2.0
**

Die 'Bank of America' verkündet via Pressemitteilung, das bereits eine Millionen Kunden Ihren mobilen Online-Banking-Service nutzen.
Apple iPhone, RIM Blackberry and Microsoft Windows Mobile devices are the most popular ones used by mobile banking customers.
-> http://newsroom.bankofamerica.com/
**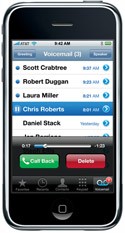 Die Patentklage gegen Visual Voicemail im iPhone scheint beigelegt. Klausner Technology Inc. behauptete in einer Klageschrift die Rechte an dieser Technologie seit 1994/1996 zu besitzen und 'fragte' daher nach Lizenzzahlungen in Höhe von 360 Millionen Dollar von Apple und AT&T.
Klausner Technology bietet selbst keine Produkte oder Dienstleistungen an, lizensiert ausschließlich Patente und ist in den letzten Jahren nicht schon öfters vor Gericht gezogen.
**

O2 in UK freut sich über reges Interesse am iPhone. 130.000 Vorbestellungen soll es für das iPhone3G bereits geben, berichtet der Telegraph.co.uk!
-> http://www.telegraph.co.uk/money/
**

Ärger in der iPhone-Dev-Szene: Der Betreiber des gleichnamigen Installer-Repositories BigBoss warnt vor der Verwendung des ZiPhone. Die Schäden, die durch die Verwendung der Software des Italieners Zibri entstehen, könnten das Gerät 'unwiderruflich' schädigen.