[update] NetShare – das iPhone als Modem
Spannender Tag bei Nullriver.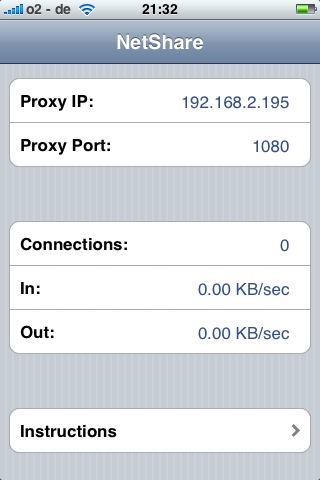 Die Geschichte ist ein bisschen länger, ich versuche jedoch die Ereignisse kurz zusammenzufassen.
NetShare ist eine Applikation von Nullriver. Das waren die bösen aufmüpfigen Buben, die uns den Installer beschert haben. NetShare beschreitet den gleichen 'an der Klippe entlangführenden'-Pfad – außer, das dieser offiziell ausgewiesen war.
NetShare lässt euch die iPhone UMTS oder EDGE-Verbindung mit dem Computer nutzen. Als Modem sozusagen. Dazu koppelt sich das iPhone per Wi-Fi an den Mac und via Proxy teilt das iPhone brüderlich seine Internetverbindung. Eine Art von Programm, die man im AppStore nicht erwartet hätte.
Share your iPhone's EDGE or 3G Internet connection with your computer using NetShare. NetShare provides a SOCKS5 proxy for your computer to connect to.
Doch die Freude währte nur kurz. In der letzten Nacht konnte das $10-Programm noch offiziell eingekauft werden, heute Morgen war es dann verschwunden. Die Blogosphäre rätselte, ob Apple einem möglichen Druck der Mobilfunkbetreiber nachkam, oder der Zertifizierungs-Prozess (mal wieder) nicht gegriffen hat.
Die Reaktion von Nullriver konnte auch nicht aufklären:
We're not quite sure why Apple took down the application yet, we've received no communication from Apple thus far. NetShare did not violate any of the Developer or AppStore agreements. We're hoping we'll get some feedback from Apple tomorrow. Sorry to all the folks that couldn't get it in time. We'll do our best to try to get the application back onto the AppStore if at all possible. At the very least, I would hope Apple will allow it in countries where the provider does permit tethering.
Am Ende dieses spannenden Freitags, haben wir einen Link für euch ausgegraben, über den NetShare wieder offiziell im iTunes-Store für $9,99 erworben werden kann. Eine kurze aber bebilderte Anleitung gibt es hier:
Fakten:
Preis: 7,99 EUR
Erschienen: 01.August 2008
Version: 1.0
0.1 MB
Entwickler: Nullriver, Inc.
Wer sein iPhone also als Modem für den Mac verwenden möchte, schlägt hier zu:
Update: Gut das ich Gestern gleich gekauft habe, NetShare ist heute wieder aus dem AppStore verschwunden.
NetShare is now back up and available from the AppStore!
Apple has taken it down again, with no explanation yet again.