RssPlayer 24h kostenlos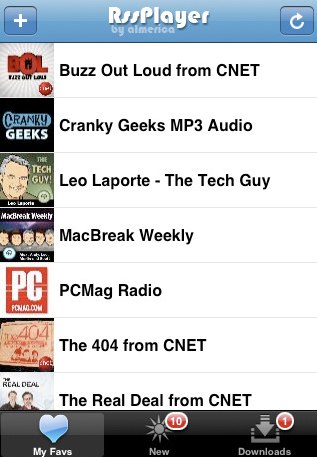 Die Geschichte des RssPlayers – als Jailbreak-Programm unter dem Namen 'Podcaster' bekannt – schreibt sich 'durchwachsen'. Gerade in der letzten Woche gab es bei uns über dessen Entwickler Alex Sokirynsky eine längere Hintergrundgeschichte.
Heute nur der kurze Hinweis auf den kostenlosen App Store-Download für die nächsten 24 Stunden. Begeisterungsstürme hat die Applikation bislang nicht ausgelöst.
In order to upgrade paid Podcaster users, we will be releasing RssPlayer int the app store for FREE for 24 hours and that will be your chance to snag a copy. The app will become free on Monday, February 2, 2009 at 9:00 AM EST (That's New York, USA time) and go up to it's normal price of $4.99 on Tuesday, February 3 at 9:00 AM EST. During the 24 hours, we ask that you please go to the app store and download your copy. This will be the only time you will be able to upgrade for free.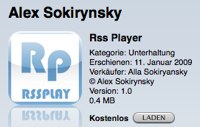 (Danke, Micky!)