Apple-Patent: Software-Organisation nach Geo-Position
Donnerstag ist Patent-Tag. Zumindest in Amerika. Dort wurde am heutigen Tag wieder ganz frisch in die lizenzierte Erfindungskiste gegriffen, aus der auch ein Dokument – datiert auf den 21. Februar 2008 – auf unsere Firma aus Cupertino entfiel.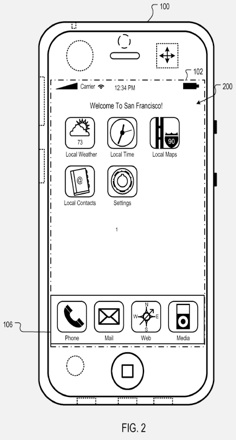 Die Beschreibung liest sich wie etwas, dass ein iPhone beschreibt, welches je nach Geo-Position unterschiedliche Statusinformationen auf dem Home-Bildschirm anzeigt.
The iPhone will know which city it's in via GPS and other means, and so when the exec opens up their iPhone, the handy local-icon that they had pre-set will pop up automatically providing them with their local contacts, favorite restaurants, weather and maps.
Darüber hinaus könnten sich abhängig vom Aufenthaltsort ein Set von spezifischen Anwendungen in den Vordergrund drängeln.
For example, the user could create a set of location-aware applications that could be populated by transitional data sets. A transitional data set is a data set that can change based on the current location of your iPhone or iPod touch as determined by a positioning technology […]
Wer wie immer Lust, Zeit und Laune hat, wühlt sich unter diesem Link durch das Juristenlatein:
-> Transitional Data Sets – US Patent & Trademark Office