Harman Kardon-Pressemitteilung: iPhone gibt HD-Videomaterial aus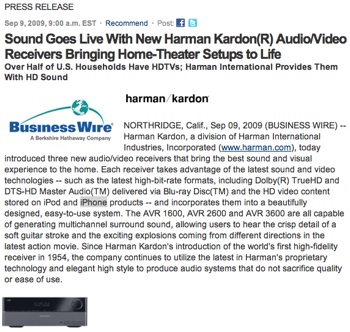 Harman Kardon nimmt mit einer Pressemitteilung der PR-Agentur Edelman, kurz vor dem Start des heutigen 'Rock'n'Roll'-Events von Apple, eine Ankündigung mit iPhone-Bezug vorweg. In der PR-Nachricht wird über die Abspiel- bzw. Ausgabemöglichkeit von hochaufgelöstem Videomaterial vom iPhone gesprochen:
Each receiver takes advantage of the latest sound and video technologies — such as the latest high-bit-rate formats, including Dolby(R) TrueHD and DTS-HD Master Audio(TM) delivered via Blu-ray Disc(TM) and the HD video content stored on iPod and iPhone products — and incorporates them into a beautifully designed, easy-to-use system.
Natürlich ist diese Nachricht vor einer offiziellen Ankündigung noch mit Vorbehalt zu genießen. Der weiteren Mitteilungs-Verlauf liest sich jedoch relativ eindeutig:
The AVR 3600 is one of the few receivers to play back HD videos from iPod or iPhone products. Non-HD videos from the iPhone are automatically optimized by the AVR 3600 to bring the video quality to the HD standard, 1080p.
via marketwatch