Twitter kauft Tweetie (Update)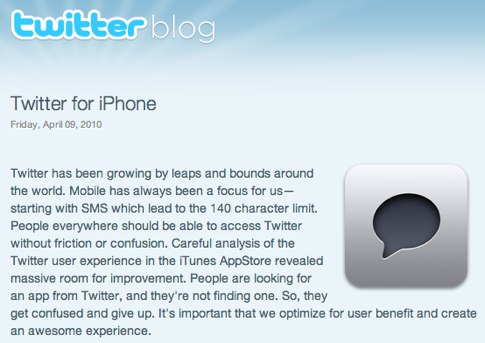 Der Kurzmitteilungsdienst Twitter erwirbt Atebits, die Firma von Loren Brichter, welche sich für die populäre iPhone-Anwendung Tweetie (2) (2.39 €; App Store-Link) verantwortlich zeigt.
Tweetie wird in den kommenden Wochen unter dem Namen 'Twitter for iPhone' als kostenfreier Download im App Store bereitgestellt. Sein Entwickler arbeitet ab sofort im "mobile team" des Mikroblogging-Services und hilft bei dessen Weiterentwicklung mit. Auch "Twitter for iPad" befindet sich in Planung.
Über die Zukunft von "Tweetie for Mac" existieren – genau wie die finanzielle Höhe der Akquisition – keine Aussagen. Mit Chrip startet in der nächsten Woche die offizielle "Twitter Developer Conference" in San Francisco, auf der die "Platform Roadmap" – über die kommende Ausrichtung des sozialen Netzwerkes – sicherlich auch zum Thema gemacht wird.
Update
Loren Brichter im MacHeist-Forum:
Hey all – first of all I apologize for any confusion, things have been a bit crazy! I just want to says I'm blasting through the todo list to get a beta put together as fast as I can, the Mac UI stuff I've been prototyping is just too cool to have anything else happen to it. Sorry for keeping it short, gotta get back to coding!
(Danke, Philip!)