[update II] "Tomorrow-is-just-another-day"-Ankündigung: Beatles-Katalog im iTunes-Store

15:34 Uhr: 'The Beatles' (iTunes-Store-Link) erreichen Apples digitale Verkaufsplattform. 'The Wall Street Journal' titelte am gestrigen Abend bereits verbindlich.

In zirka 15 Minuten soll es auf Apple.com weiter- beziehungsweise losgehen.
Update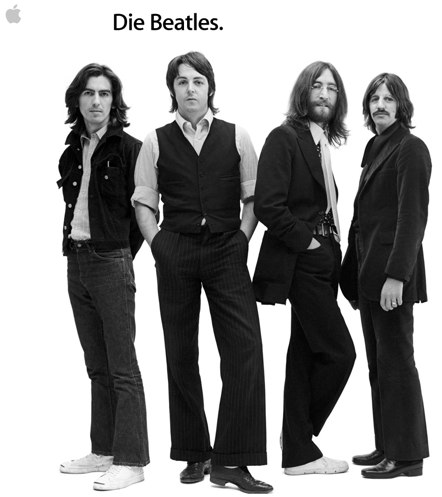 16:00 Uhr: "Beatles it is!" Es sind keine weiteren Ankündigungen zu erkennen.
Um es vorsichtig auszudrücken: Die Eingangsseite von Apple.com für knapp 24 Stunden zu blockieren nutzen, den digitalen Verkaufsstart einer Band vorzubereiten, deren Verwalter sich jahrelang dagegen wehrten, war wohl etwas überdimensioniert.
Update II
I am particularly glad to no longer be asked when the Beatles are coming to iTunes," said Ringo Starr.
via Apple.com/PR