Verizon-iPhone startet im US-Vorverkauf + ein Review-Überblick

Vor wenigen Minuten verabschiedete sich der amerikanische Online-Store von Apple um kurze Zeit später mit der CDMA-Telefonvariante von Verizon Wireless zurückzukehren. Derzeit lässt sich dort für bestehende Kunden des Mobilfunkanbieters das Gerät vorbestellen.
Die US-Presse besitzt die Review-Geräte, welche bereits unter iOS 4.2.6 laufen, seit letztem Freitag. Hier sind ein paar ausgewählte Statements der Testberichte.
It's the same phone. The only difference is the network. And Verizon's network is better.
No, I suspect the reason we had to wait until now for a Verizon iPhone is that AT&T's U.S. exclusivity deal with Apple ran through the end of 2010. It's that simple. That's why Bloomberg could be so certain, all the way back in June, that Verizon would be getting the iPhone in early 2011. The deal was done, they just had to wait. And while they waited, Apple and Verizon tested and tweaked the shit out of these things on Verizon's network.
In my tests, the iPhone 4 can give you a solid 4 hours of hotspot/tethering time. That's from a fully charged battery, all the way down to zero. I've run it down fully twice. Both times, just about four hours.
A second C.D.M.A. difference: When you exchange long text messages with non-Verizon phones, they get split up into 160-character chunks. G.S.M. phones are smart enough to reconstitute those chunks into one more readable, consolidated message.
On the big question, I can say that, at least in the areas where I was using it, the Verizon model did much, much better with voice calls. In numerous tries over nine days, I had only three dropped calls on the Verizon unit, and those were all to one person who was using an AT&T iPhone in an especially bad area for AT&T: San Francisco. With the nearly identical AT&T model, I often get that many dropped calls in one day.
If you've been looking for relief from your woes of dropped or failed calls — right now the Verizon iPhone is making a very serious case for itself. Keep in mind, however, that this network has yet to be hit with the traffic of millions of new iPhones, but given that Verizon is already pushing tons of Android devices into the market, we're not so sure that it's going to be the kind of mess it's been for AT&T.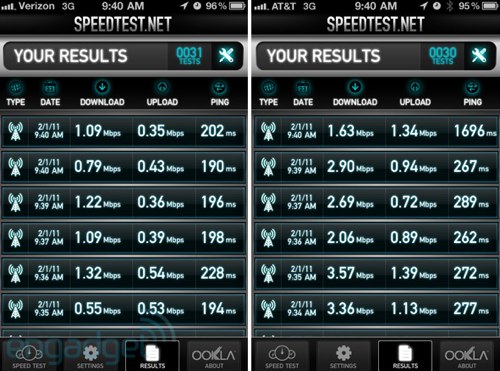 After 90 seconds without any devices connected to it, the Personal Hotspot shuts down in order save on power. To re-enable it, I had to to enter the iPhone's Personal Hotspot settings, at which point the phone popped back up into the list of available Wi-Fi networks. One of the pleasant surprises of testing the Personal Hotspot was its range. I was able to connect to the device even from a decent distance away.