Microsofts Bing drückt Discount-Deals auf iPhone und Android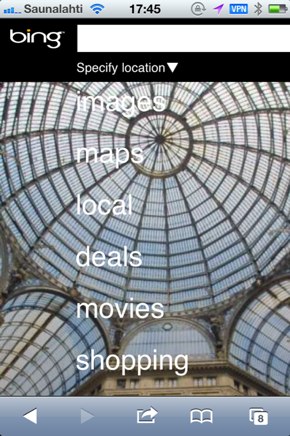 In den USA startet Microsofts Suchmaschine 'Bing' einen Rabatt-Aggregationsdienst. 'Deals' trägt (Discount-)Angebote verschiedenster Unternehmen nach Schlagworten oder Geo-Position zusammen. Als Partner wählte sich der Windows-Konzern 'The Dealmap' aus. Dessen Slogan: "Your city. On sale." ist bereits mit einer iPhone-App im US-Download-Store (Link) vertreten und lässt sich für Amerikaner ab sofort unter m.bing.com nun auch über die Suchmaske auf mobilen Geräten anwählen.
From m.bing.com (iPhone and Android), you will see 'deals' on the homepage. Simply click on the 'deals' link to quickly and easily access deals while on the go.
Stopp! Fehlt neben Apples iPhone und Googles Android nicht noch eine Plattform? Nö. 'Windows Phone 7' bekommt zwecks fehlender HTML5-Unterstützung die Bing-'Deals' in dieser Form vorerst nicht. Von großer Überraschung dürfte der erste Nutzer-Kommentar unter dem werbenden Blog-Beitrag daher nicht sein:
Seriously, do you guys keep up with your own company? This should not have launched without Windows Phone 7 support. I'm very disappointed to see Microsoft promoting the iPhone. You can be assured that Apple will not be returning the favor.
Die Antwort vom 'Bing Team' folgte auf den Fuß:
As Windows Phone users we understand. The functionality is based on HTML5 and will work with phones that support it, but today is being released for iOS and Android. Windows Phone 7 team announced that they will have HTML5 support in an update later this calendar year, at which point deals will work great on Windows Phone.
Okay. Microsoft ist eine große Firma, die Einnahmen aus ganz unterschiedlichen Quellen erwirtschaftet. Trotzdem verwehrt es keiner geringen Ironie, wenn neue Software-Produkte nicht auf der eigenen Hardware laufen. Kunden, die von Außen auf ein Unternehmen blicken, sehen keine unterschiedlichen Abteilungen oder Geschäftsbereiche. Sie sehen, dass eine Suchmaschine von Microsoft eine neue Funktion anbietet, die nicht auf Microsofts Mobilfunktelefonen funktioniert.
Apropos Suchmaschinen: "Did Google Arm Its Own Enemies With Android?", ein Artikel vom letzten November, wirft ein paar (andere) wirklich clevere Fragen auf. Was passiert beispielsweise, wenn Google plötzlich auf den 'einigen' Android-Geräten keine Standard-Suchmaschine mehr ist und die Werbeeinnahmen zur Konkurrenz fließen.
But what should really have Google concerned, however, is that there are instances of this fight being moved to domestic soil. Microsoft recently negotiated with Verizon that some of the Android phones that ship to Verizon customers will have Microsoft's Bing, not Google, as the default search engine.
Welche Summen Google dafür zahlt, um auf dem iPhone-Auslieferungszustand in den vorgegebenen Konfigurationen zu stehen, ist Spekulation. Wirklich interessant könnte jedoch der Blick auf das eigene eingekaufte Betriebssystem werden:
It won't be long before Google's "allies" in the Open Handset Alliance — the manufacturers making Android phones — realize that Google need them a lot more than they need Google, and auction off the default search services on the phones they ship. Google may have no choice but to buy their support, too.