Microsoft, Apple und RIM sichern sich 6000 Nortel-Patente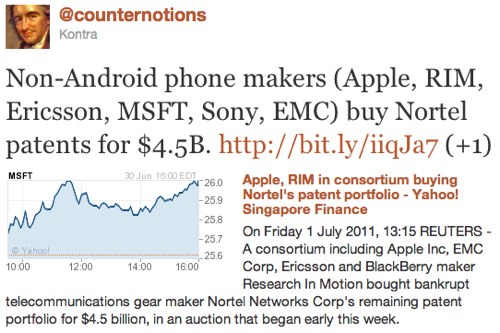 Ein Konsortium aus sechs Konzernen, darunter Apple, Microsoft und Research in Motion, sichern sich das Nortel-Patent-Paket. Google ging mit seinem Angebot von 900 Millionen US-Dollar leer aus.
The sale includes more than 6,000 patents and patent applications spanning wireless, wireless 4G, data networking, optical, voice, internet, service provider, semiconductors and other patents. The extensive patent portfolio touches nearly every aspect of telecommunications and additional markets as well, including Internet search and social networking.
In einem separaten Statement äußerten sich RIM und Ericsson zu dessen finanzieller Beteiligung:
It's not clear if the consortium has access to the entire portfolio, or whether they divvied up the spoils among themselves. In separate statements, RIM said that it paid $770 million as part of its role, while Ericsson said it paid $340 million. Contributions from the other participants were not immediately available.
Gegenüber Electronicsfeed.com kommentierte Florian Müller, an dieser Stelle als Patent-Experte schon mehrfach erwähnt, den Bieterstreit:
There were two kinds of bidders: those who wanted to buy those patents as a strategic weapon and those whose mission was to clear the market and prevent these patents from being used in all the wrong ways. I guess the winning consortium made a defensive, market-clearing purchase.

In light of Android's patent problems it's surprising that Google didn't outbid everyone else. It could have afforded more than USD 4.5 billion but it doesn't appear to be truly committed to Android.