Dual-Mode: iPhone (5) funkt im CDMA- und GSM-Netz?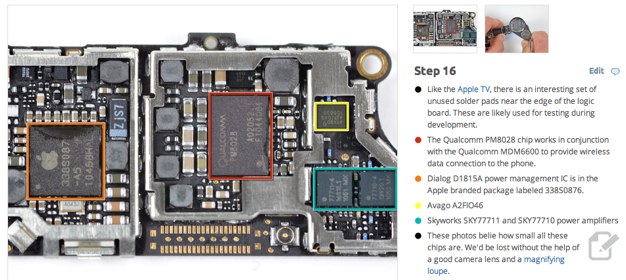 Foto: iFixit
Im Verizon-iPhone sitzt seit Februar 2011 ein Qualcomm-Chipsatz (MDM6600), der sowohl im CDMA- als auch GSM-Netz funken könnte – eine entsprechende Antenne sowie ein Simkarten-Einschub vorausgesetzt. TechCrunch berichtet, dass in den Developer-Logs eines nicht genannten App-Store-Entwicklers ein solches Dual-Mode-iPhone (5) auftauchte.
The logs show that the app has been briefly tested by a handful of people using what is almost certainly an iPhone 5, evidently running iOS 5, sporting two distinct sets of mobile network codes (MNC) / mobile country codes (MCC). Those codes can be used to uniquely identify mobile carriers.

Sure enough, some registrations for the app – which the developer also asked not to be named – were logged from a new Apple device, using the MNC/MCC codes from both Verizon and AT&T.
Aus Produktionssicht erscheint dies mehr als sinnvoll. Inwieweit jedoch Kunden zwischen den unterschiedlichen Netzwerken wechseln können, bleibt die entscheidende (und ungeklärte) Frage.
Dagegen ohne Zweifel: LTE schafft es mit Sicherheit nicht in die nächste iPhone-Generation.