IDC: Smartphones überholen Feature Phones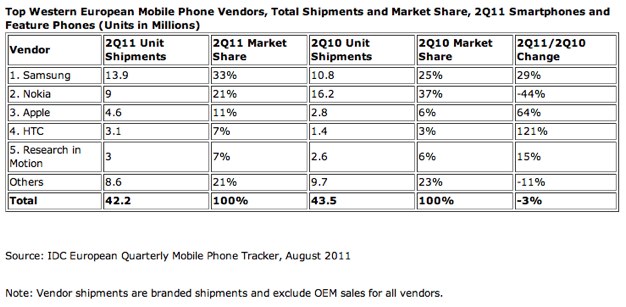 Eine IDC-Schätzung sagt: In Westeuropa verkauften sich im letzten Quartal erstmals mehr Smartphones als Feature Phones. Sowohl Samsung als auch Apple geben dabei den Ton an. Nokia fällt im Vergleich zum Vorjahr signifikant.
Dazu ein schönes 2007er Zitat von Olli-Pekka Kallasvuo, dem langjährigen Nokia-Häuptling:
Kallasvuo said Apple would struggle to replicate the success its iPod had enjoyed in the world of portable music devices. He challenged Apple to "turn mindshare into market share" when it launches the iPhone later this year. […] He added that the iPhone would be "good for the industry."
Und auch für RIM ist der Buchband mit heiteren Sprüchen, dem man sich hier bedienen könnte, umfangreich:
"The recent launch of Apple's iPhone does not pose a threat to Research In Motion Ltd.'s consumer-geared BlackBerry Pearl and simply marks the entry of yet another competitor into the smartphone market, RIM's co-chief executive said in an interview" […] "'It's kind of one more entrant into an already very busy space with lots of choice for consumers,' Jim Balsillie said of Apple. 'But in terms of a sort of a sea-change for BlackBerry, I would think that's overstating it.'"
Aber ich möchte niemanden langweilen. Ganz besonders nicht mich selbst. Trotzdem fällt der Umschwung, auch wenn er im Moment nur für Westeuropa gilt (das Verhältnis von Smartphones zu Non-Smartphones in den USA lautet 1/3), tiefgreifend aus.