Studie: 42-Prozent wünschen sich Windows-Tablets
Die Freiheit, die Druckerpresse am heutigen Tag einfach anzuhalten, unbezahlbar. Aber nun geht's weiter.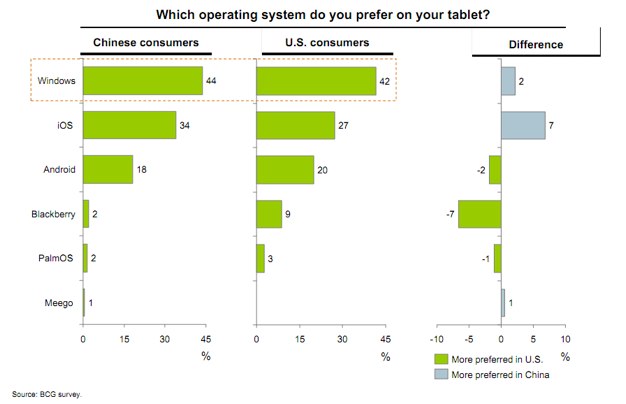 Screenshot: AllThingsD
Boston Consulting Group made a controversial claim Wednesday in a study alleging that more wanted a Windows tablet than an iPad. Of the cross-section of Americans, 42 percent said they would prefer Windows on their tablets to just 27 percent wanting an iPad. Only 20 percent wanted Android, and nine percent wanted a BlackBerry PlayBook.
Die neun (US-)Prozent für das PlayBook sollten bereits stutzig machen. Und obwohl Microsofts Tablet-OS sehr vielversprechend aussieht, dauert dessen Release wahrscheinlich noch bis zum Herbst 2012. Die Konkurrenz dann: eine dritte (oder vierte) iPad-Generation.
Passend dazu beantwortete Harry McCracken kürzlich die Frage: "Was wurde eigentlich aus den 32 iPad-Rivalen des Jahres 2010?".