Geekbench: iPhone4,1 vs. iPhone3,1
Die Aussagekraft von Benchmarks ist extrem begrenzt und lediglich im direkten Vergleich sinnvoll anzubringen. Insbesondere unter iOS rücken die technischen Werte maximal in den Hintergrund.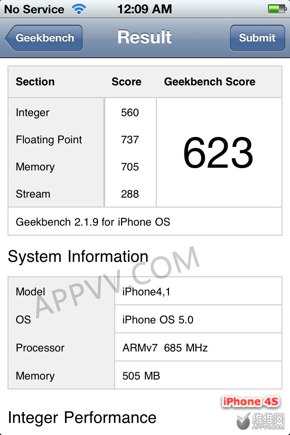 Und trotzdem soll diese aktuelle Zahlensammlung aus 'Geekbench 2' (0.79 €; App Store-Link) unter iOS 5, das selbst noch einmal zur (Browser-)Performance beisteuert, kurz vermerkt werden.
Zum Vergleich: Das iPad 2 erzielt im gleichen Test einen Score von 754. Ersten Grafikwerten des iPhone 4S (mit dem vom iPad 2 bekannten PowerVR SGX 543MP2) widmet sich AnandTech.
The GPU power in the 4S should be more than enough to run any well written, current generation title at well north of 30 fps on its display.