Siri plappert Termine zu 'Remember The Milk'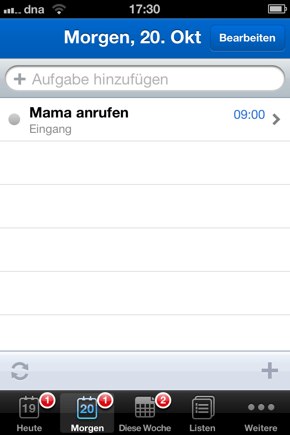 Registriert man seinen CalDAV-Account der ToDo-App 'Remember The Milk' am iPhone 4S, überträgt dieser von Siri eingesprochene Aufgaben an dessen Online-Service.
Die Setup-Anleitung ist kurz und ohne Tricks. Allerdings bleiben die diktierten Einträge auf ihr Datum, den Betreff und dessen Zeitpunkt beschränkt. Alle Termine landen ohne Ortsangaben auf der Standard-Liste und sind nicht mehr in Apples 'Reminders'-App geführt. Der Online-Dienstleister bietet jedoch eine eigene Anwendung zur Termin- und Aufgaben-Verwaltung an (kostenlos; universal; App Store-Link).