iPhone 4S weiter unter hoher Nachfrage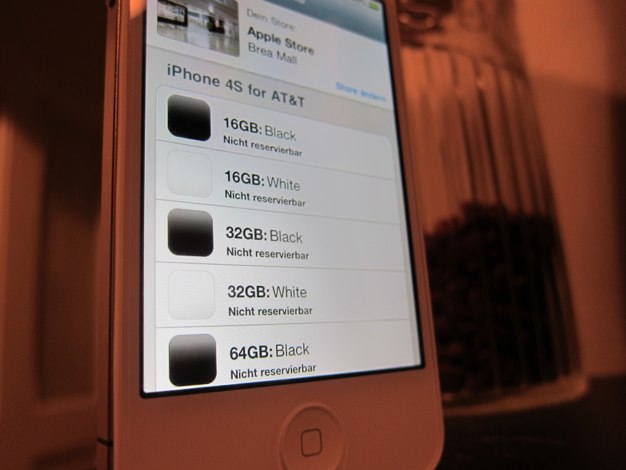 Analyst Chris Whitmore (Deutsche Bank) schaut auf die iPhone-4S-Verfügbarkeit in 30 (US-)Apple Retail Stores:
Our retail checks reveal Apple is experiencing daily stock outs at ~85-90% of the ~30 retail stores we called.
Die 30 betrachteten Geschäfte entsprechen einer Stichprobengröße von zirka 10-Prozent. Zur Erinnerung: Das iPhone 4S befindet sich seit über drei Wochen im Verkauf.
Außerdem: Am vergangenen Freitag lief der Vorkauf für das iPhone 4S in 15 weiteren Ländern an, darunter Hong Kong und Südkorea. Analyst Brian White (Ticonderoga) möchte erfahren haben, dass das Kontingent für Hong Kong innerhalb von 10 Minuten ausverkauft war.
Ein vergleichbares Bild kommt aus Korea: Die Webseiten der zwei größten Mobilfunkanbieter fanden sich "überschwemmt" mit Kundenanfragen:
The website crashed due to high traffic at one point, and the two companies had over 200,000 pre-orders the same day, much more than the 130,000 pre-orders for the iPhone 4 in August last year.