iOS wildert (weiter) im Spielewald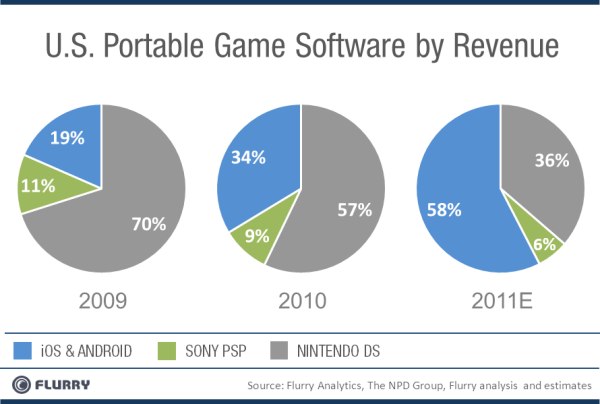 The most striking trend is that iOS and Android games have tripled their market share from roughly 20% in 2009 to nearly 60% in just two years. Simultaneously, Nintendo, the once dominant player, has been crushed down to owning about one-third of market in 2011, from having controlled more than two-thirds in 2009.

Combined, iOS and Android game revenue delivered $500 million, $800 million and $1.9 billion over 2009, 2010 and 2011, respectively.
Die Verschiebung ist eindeutig, der (mobile) Markt wächst insgesamt allerdings auch kräftig (Umsatz-Prognose 2011: 3.3 Milliarden US-Dollar). Außerdem unterliegt er mit dem (noch frischen?) Nintendo 3DS sowie der bevorstehenden Playstation Vita-Veröffentlichung (EU-Start: 22.02.2012) einem gewichtigen Wandel.
Was ich sagen will: Den alten Hasen etablierten Handhelds muss nicht gleich der Tod nachgeschrie(be)n werden, nur weil Apple gerade vollmundig zulangt. Der Trend, dem vor zwei Jahren noch kräftig widersprochen wurde und der die Branche selbst heute noch irritiert, ist allerdings nicht mehr zu leugnen.