Die Suche nach dem Umsatz-Eldorado: Apples App Store vs. Amazons Appstore vs. Google Play
Marktforscher Flurry wiederholt seinen Umsatz-Vergleich von Software-Verkäufen zwischen iOS und Android aus dem vergangenen Dezember und fügt der Berechnung Amazons Appstore neu hinzu.
Der herangezogene Datensatz besteht aus "bestplatzierten Anwendungen, die auf allen drei Plattformen verfügbar sind und hauptsächlich dem In-App-Geschäftsmodell folgen".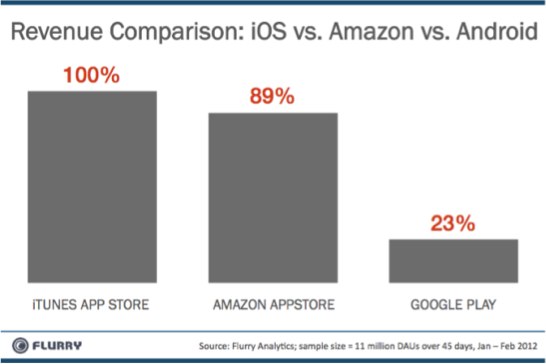 Another way to interpret the results is that for every $1.00 an app generates in the iTunes App Store, it generates $0.89 in the Amazon Appstore and $0.23 in Google Play.