Analysten-Prognose: Apple verkauft rund 35 Millionen iPhones in Q2/2012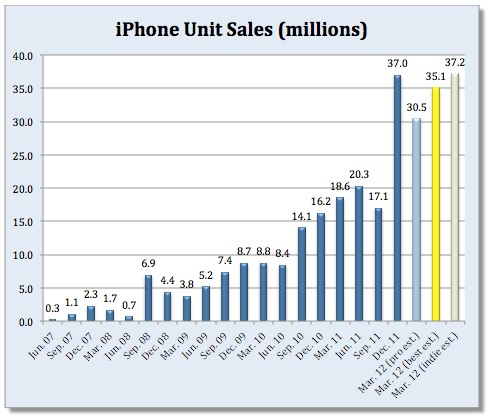 To hedge our bets, we've singled out the six analysts who have turned in the most accurate estimates over the past five quarters. Their consensus: nearly 35.1 million units, an increase of 88.5% year over year.
Die Geschäftszahlen für Q2/2012 legt Apple am 24. April, morgen in einer Woche, vor. Philip Elmer-Dewitt trägt wie gewohnt die Analysten-Vorhersagen zusammen, die diesmal ein Wachstum zwischen 60- und 100-Prozent gegenüber dem Vorjahresquartal erwarten. Von Ende Dezember 2010 bis zum 26. März 2011 verkaufte Apple damals 18.65 Millionen Telefone.