Android und iOS dominieren Japan
ComScore behauptet: Unter japanischen Neukäufern übertreffen Smartphones erstmals Feature Phones. Mittlerweile besitzt einer von fünf Mobilfunk-Kunden ein Telefon mit vernünftigem Betriebssystem. Googles Android beherrscht, wie bereits vor einem Jahr festgestellt, nach ausschließlich quantitativer Zählung, den dortigen Markt.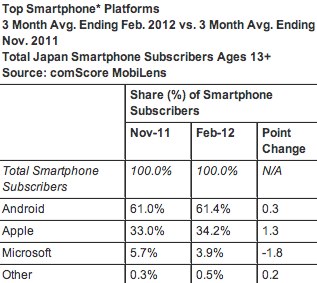 Android's share of the smartphone market reached 61.4 percent, while Apple ranked second with 34.2 percent of the smartphone market (up 1.3 percentage points versus November 2011), followed by Microsoft, which accounted for 3.9 percent in February 2012.
Schon vor zwei Jahren war der Einfluss von Smartphones deutlich spürbar. Die komplette Übernahme, bei der sich Smartphones das Geschäft mit klassischen Telefonen einverleiben, steht aber (weltweit) immer noch am Anfang.
The American "smartphone" not only took the once impenetrable Japanese mobile market by storm, it disrupted the industry as a whole.