Erstellt mit iBooks Author: David Sparks schreibt 'Paperless'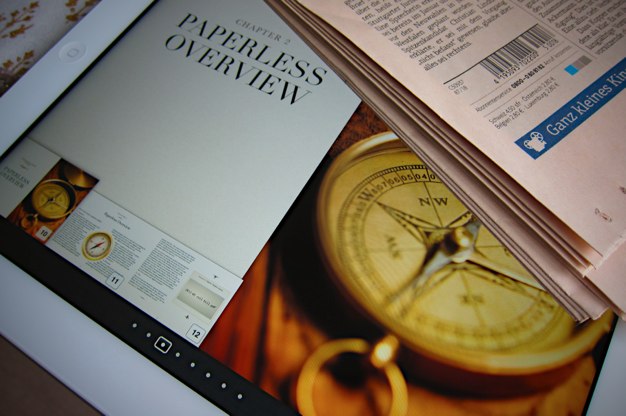 It takes full advantage of iBooks Author and includes picture galleries, interactive images, movies, 32 screencasts, and nearly 27,000 words. There is over an hour and a half of video. Not only does this book tell you how to go paperless, it also shows you.
David Sparks schreibt in Paperless (2.99 €; iTunes-Store) einmal gebündelt zusammen, was er in seinem Blog und Podcast über die letzten Monate und Jahre gelernt und gepredigt hat. Entsprechend der gelebten Abneigung gegen bedrucktes Papier gibt es das mit iBooks Author erstellte Buch ausschließlich als digitalen iTunes-Download für das iPad.
Die Anleitung für einen papierfreien Alltag widmet sich an ausgewählten Stellen auch dem iPhone und iPad. Der eindeutige Schwerpunkt liegt jedoch auf unterschiedlichster Mac-Software, die von der Erfassung, über die Organisation bis zu dessen Benutzung die Materie vielseitig und einsteigerfreundlich beackert.
Thema, Umfang, Veröffentlichungsform und Preis treffen den Nagel auf den Kopf.