Bookmarklet ändert Schriftgröße auf Webseiten
Mit iOS 6 würde ich gerne selbst bestimmen welche App meine Mails verschickt oder in welchem Browser sich ein Link öffnet. Die Möglichkeit einer Zuweisung unter iOS fehlt. Die Hoffnung, dass der von Apple vorgegebene 'Standard-Status' von Programmen kippt, scheint gering in weiter Ferne.
Deshalb rüstet Marcos Kirsch nach: Über ein Safari-Bookmarklet lässt sich Text auf Webseiten temporär vergrößern oder verkleinern.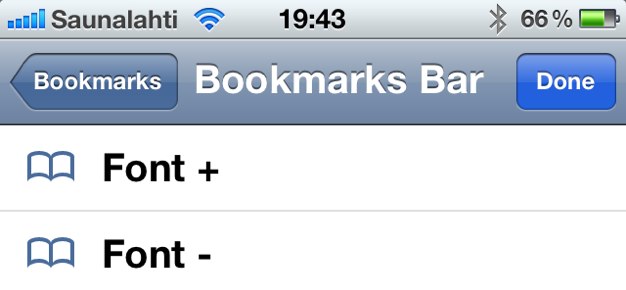 On most web sites, the text is formatted in narrow columns and you just double tap to zoom in perfectly. In this case that wouldn't work well because the text spans from edge to edge on the site. You've probably bumped into a similar situation on your iPhone or iPad.
Andere App-Store-Browser wie beispielsweise iCab (1.59 €; universal; App Store-Link) wissen diese Art von Zusatzmodulen bereits eingebaut.