Unter dem Kunststoff-Zuckerguss vom iPhone-Netzteil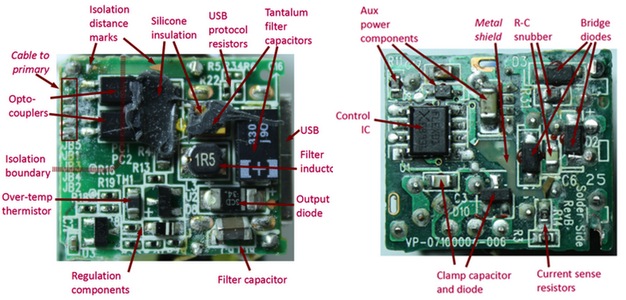 Apple's power adapter is clearly a high-quality power supply designed to produce carefully filtered power. Apple has obviously gone to extra effort to reduce EMI interference, probably to keep the charger from interfering with the touchscreen. When I opened the charger up, I expected to find a standard design, but I've compared the charger to the Samsung charger and several other high-quality industry designs, and Apple goes beyond these designs in several ways.
Ken Shirriff erinnert jedoch auch an die gigantische Gewinnspanne eines Zubehörartikels, der in Produktion rund einen vier Dollar kostet aber im Apple Store für 29 Euro verkauft wird. Auf Amazon geht's ein bisschen preiswerter (Affiliate-Link).
Wichtig: Keine (der dort massenhaft angebotenen) Fälschungen kaufen!