Acht Millionen verkaufte Kopien von Camera+ nach zwei Jahren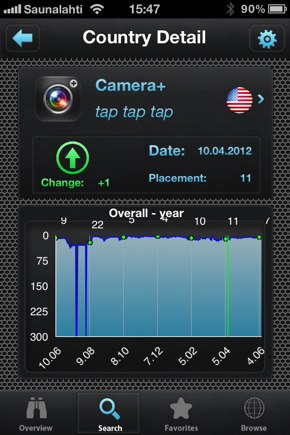 It was two years ago today that we launched Camera+ 1.0. Coincidentally, we've sold our 8 millionth copy of Camera+ as of today.
"Coincidentally"? Wirklich?
Von Camera+ (0.79 €; App Store-Link) lässt sich lernen, wie man App-Store-Software vermarktet. Einige ihrer Methoden mag ich nicht, doch der Erfolg gibt ihnen Recht. Die hübschen Promo-Videos, punktuell gesetzten Statistik-Einblicke und nicht zuletzt die hervorragende Software selbst rechtfertigen die dauerhafte Chartplatzierung.
Und dass man sich bislang erfolgreich gegen Übernahmeangebote (Adobe, Google oder Twitter) sowie Finanzspritzen gewehrt hat, ist äußerst sympathisch.