Verdoppelte CPU- und Grafik-Leistung: Was steckt im A6?
Richtig vermutet: ein A6 treibt das iPhone 5 an. AnandTech ist sich sicher, dass es sich dabei um einen Dual-Core Cortex-A15 handelt.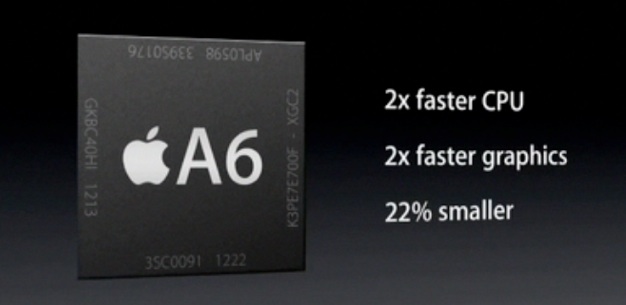 Apple reserves major Ax SoC number iterations for architecture changes, combine that with the performance claims as well as some other stuff we've heard offline and there's one conclusion: the iPhone 5 uses ARM Cortex A15 cores inside.
Prozessorarchitekt ARM spricht dem A15 zirka 40-Prozent mehr Geschwindigkeit gegenüber dem Cortex-A9 zu, der im iPhone 4S als Dual-Core verbaut ist.
Der Vermutung über das Chip-Upgrade lässt sich mit einem preissensiblen Blick auf den neuen iPod touch folgen, dem nur ein A5 beiliegt. Apple behält für die kritische 200-Euro-Marke sogar die vierte Touch-Generation im Verkauf (Affiliate-Link) und spart natürlich noch an diversen anderen Komponenten.
Keine Mutmaßungen existieren bislang zum verbauten Arbeitsspeicher (das 4S besitzt 512 MB) sowie dem Grafikchip, der sich insbesondere um die 175.000 Games- und Entertainment-Software im 700.000 Apps-starken Download-Store kümmert.