Das Presse-Embargo ist beendet. Hier sind die ersten Reviews zum iPhone 5.
Nach den ersten US-Testberichten ist auch in diesem Jahr klar: Apples Produktpräsentationen schummeln nicht. Getrickste Batterielaufzeiten oder aufgepeppte Fotos sucht man (wieder) vergebens. Das iPhone 5 hält, was die Keynote in der letzten Woche versprach.
Hier die Übersicht der diesjährigen Journalistengarde mit früher Testmaschine:
In other words, it boils down to a basic decision: features or polish? Only you can decide what's important to you. It's obvious which one Apple cares most about — and the iPhone 5 is the most artful, pleasing expression of its priorities yet.
Harry McCracken / Time.com
We confirmed with Apple that the iPhone 5 itself only supports USB 2.0, so a faster interconnect on the other end wouldn't help anything, but there's nothing stopping the company from expanding the Lightning standard to work with Thunderbolt or USB 3.0 in the future.
Tim Stevens / Engadget
I was delighted with the audio quality on voice calls, including the speakerphone.
Ed Baig / USA Today
The camera is among the best ever put into a phone. Its lowlight shots blow away the same efforts from an iPhone 4S. Its shot-to-shot times have been improved by 40 percent. And you can take stills even while recording video (1080p hi-def, of course).
David Pogue / The New York Times
The most important point of Apple's larger iPhone screen is that it's not too large. […] My thumb reaches the top of the screen to tap on options and hit the back button without shuffling the phone in my hand.
Jim Dalrymple / The Loop
Yet unlike many competitors, this isn't a plastic, insubstantial-feeling device. Although Apple claims it's the world's thinnest smartphone—18% thinner than the prior model—the iPhone 5 retains Apple's trademark, solid-feeling, metal construction, with an aluminum back this time, instead of a glass back. Like many Apple products, it's gorgeous.
Walt Mossberg / AllThingsD
But as far as I can tell, the new A6 chip is the true key. Starting up the iPhone 5 routinely took about 30 seconds less than the iPhone 4S. Loading heavier applications (like Path, which caches a lot of data), was about twice as fast. Every single game I tried was at least twice as fast, sometimes more. Larger games like GTA 3 and Infinity Blade both started far faster and ran more smoothly. And these games are not yet optimized for the A6.
MG Siegler / TechCrunch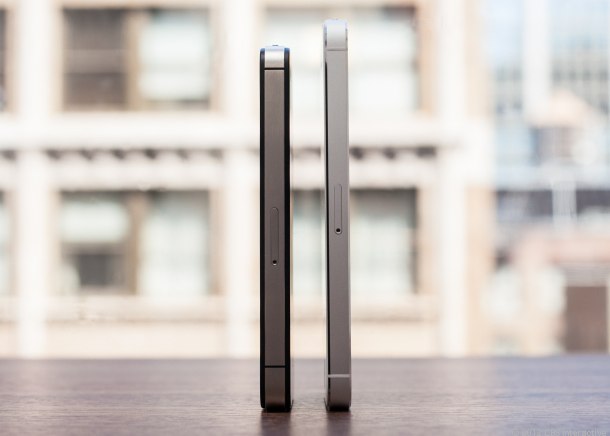 Does this change the smartphone game? No. Other smartphones beat it on features here and there: if you want a larger screen, go with a Samsung Galaxy S3. If you want better battery life, go with a Droid Razr Maxx.

But, if you want a great, all-around, beautifully engineered smartphone that covers all bases, here it is. Just like the MacBook is to the world of laptops, the new iPhone is one of the top three, if not the best-designed, smartphone around. It's better in all the important ways.
Scott Stein / CNET
Given that iPhone 4S users can upgrade to iOS 6 and do just about everything the iPhone 5 can do, and that Android users can get similarly impressive handsets for less dosh, we reckon the smart money won't all be going on a new iPhone this year, even if the mass market can't get enough of it. It's good, very good. But it's no longer the best around.
Luke Peters / T3
Apple has addressed the bigger-screen debate with a solution that doesn't undermine key usability promises, delivered LTE without destroying battery life, and wrapped it up in a design that's both comfortably familiar and crisply revitalized.
Vincent Nguyen / SlashGear
The iPhone 5 may not be terribly innovative, but it does deliver that package better than any previous Apple product, and better than just about any other smartphone.
Peter Nowak / CBC News
While the hardware and design here is cutting edge, the software plays it safer than we would like.
Stuart Miles / Pocket-lint
And compared to the 4/4S's glass back, it should prove far more durable. (Would you not love to know the number of cracked 4/4S glass backs Apple has replaced?) I believe this is a big reason why Apple has not updated its bumpers for the iPhone 5 — this is a phone that was meant to be used without a case.
John Gruber / Daring Fireball
The iPhone 5 is by no means perfect, and we're lucky there are a lot of really good smartphones on the market.

But only one great one.
Rich Jaroslovsky / Bloomberg