Android. In welcher Version?
Charles Arthur fasst für den Guardian das Android-Dilemma unaufgeregt zusammen.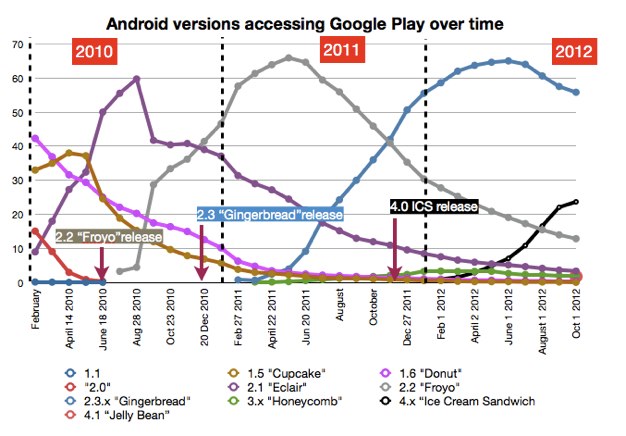 Gingerbread is falling, down from that 65% in June to 55.8% at the start of October – but ICS is at just 23.7%, and has risen by only a couple of percentage points. True, if you add in "Jelly Bean" (4.1) then you bump up the 4.x figure to 25.5% . But that's still a long way adrift.
360 Millionen Androids laufen aktuell mit einem alten OS unterhalb von 4.x. Von der 'Update Alliance', die im Sommer 2011 als 'Up-to-Date-Garantie' versprochen wurde, hörte man nach der ersten Ankündigung nichts mehr. Selbst Googles 12.5-Milliarden-Motorola macht nicht mehr mit. Laufende Vertrags-Flaggschiffe aus dem letzten Jahr stranden damit auf Android 2.3.x.
Richtig ist: Telefone mit Ice Cream Sandwich und Jelly Bean wachsen kräftig – von Null auf 120 Millionen innerhalb von einem Jahr. Richtig ist aber auch: Geräte mit Gingerbread legen weiterhin zu und trennen den modernen iOS-Konkurrenten von einer antiken Betriebssystemversion.
Vielleicht ist das mal ein erwähnenswertes Detail, wenn der nächste 'Android dominiert den Smartphone-Markt'-Artikel geschrieben wird?!