Facebook kappt den 'Meine-Freunde-suchen'-Zugang für Path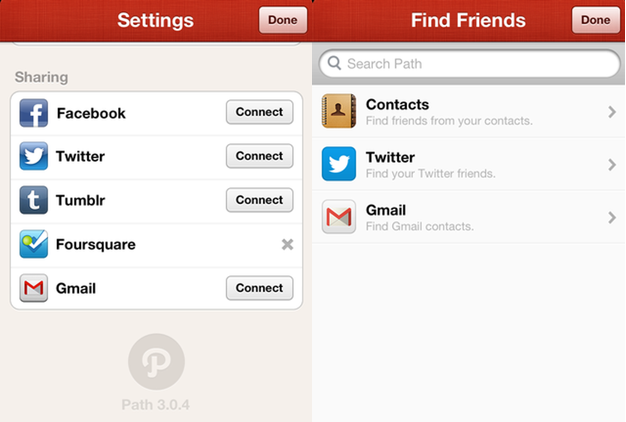 Facebook tells me Path can still use Facebook as a login option and share posts to Facebook. However, its "Find Friends" access has been shut off […]. Facebook didn't say exactly why Path lost access. […] We've reached out to Path for its side of the story.
TechCrunch spekuliert das die beschränkte API-Anbindung seines Konkurrenten mit den Spam-Anschuldigen der letzten Woche in Verbindung steht.
Erst einen Tag zuvor vermeldete das als Facebook-Gegenentwurf angetretene Freundesnetzwerk von Dave Morin seine 10 Millionste Anmeldung. Wiederum drei Monate zuvor, im Februar 2013, verhängte die US-Handelsbehörde FTC eine Strafe in Höhe von 800.000 US-Dollar als Konsequenz der letztjährigen Aufregung um den Adressbuch-Upload.
Rückblickend strich hier ein Anbieter die Prügel für eine gängige Praxis diverse iOS-Apps ein, und leitete eine grundlegende App-Store-Regeländerung ein.