Ohne Jailbreak: Plex auf dem neusten Apple TV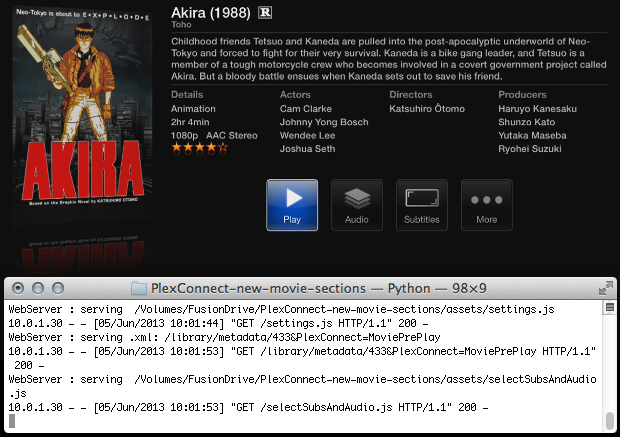 Kollege Hetzel empfahl im letzten Podcast (01:58:20) das Script-Sammelsurium PlexConnect, das dem Apple TV vom Mac aus die eigene Trailer-App vorgaukelt. Die XML-Konsequenz: Zugang zur lokalen Plex-Bibliothek.
Essentially, you run a program on your computer which masquerades as the Trailer app. Next, change one setting on the ATV, and you're up and running. It took me less than 2 minutes to install and get it running.
Das 2-Minuten-Versprechen stimmt. Ein Github-Download, zwei DNS-Einträge und ein Terminal-Befehl später surft man durch seine Filme und Serien auf einem Apple TV (der zweiten und dritten Generation) unter aktuellster Software (aber ohne Jailbreak-Hacks).
Das Forum und Wiki bietet erste Anlaufstelle für Fragen, Probleme und Einschränkungen, die mit diesem noch sehr jungen Experiment verbunden sind.