Für das iPad: Papers, Please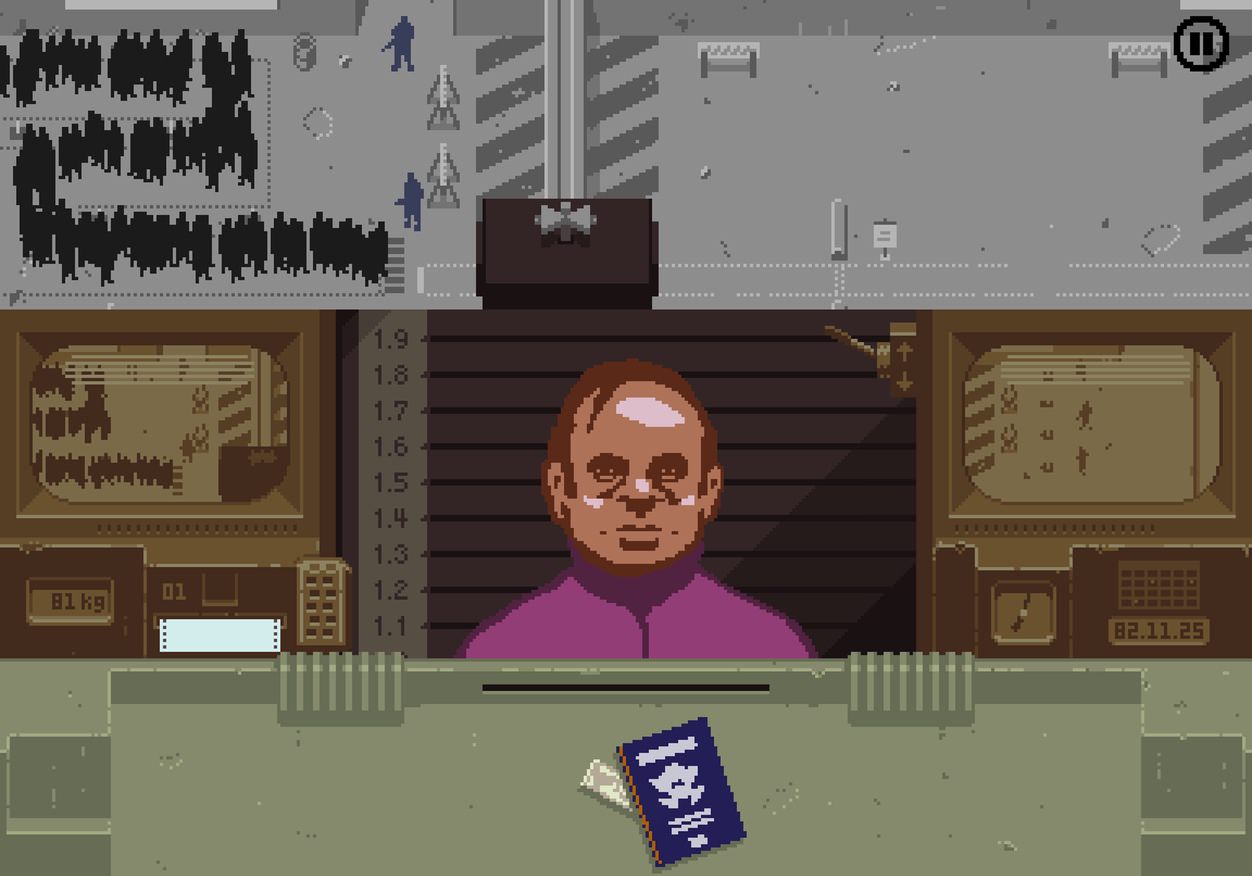 Die initiale App-Store-Ablehnung von Papers, Please (6.99 €; App-Store-Link) – mittlerweile widerrufen, entschuldigt und bereits in neuer Version durchgewunken – basierte auf einem Missverständnis. Der Prüfprozess interpretierte die Menü-Option 'Nudity' als Indiz für eine Form von Nacktdarstellung, die bereits häufiger für das Format Videospiele beanstandet wurde. Die tatsächliche Form der Pixel-Nacktheit, die nicht ansatzweise im pornographischen Bereich zu verordnen ist, taucht aber erst viel später im Spiel auf. Das Mini-Zeitfenster, das den Prüfern für eine einzelne App zur Verfügung steht, erlaubt es überhaupt nicht die entsprechenden Stellen im Spiel zu erreichen.
Trotzdem bin ich dankbar für den öffentlichen Aufschrei, den diese Ablehnung hervorrief – auch wenn er ganz eindeutlich angefeuert ist vom Widget-Missmanagement.
Die ungleiche Behandlung zwischen Büchern, Filmen und TV-Serien auf der einen Seite und Videospielen auf der anderen, die mobil oft keine Möglichkeit haben auf die ungeprüfte Verbreitung mittels dem Browser auszuweichen, fasst dieser öffentliche Brief an Tim Cook präzise zusammen.
But even though Apple has done many amazing things for our industry in liberalizing its economics (with great thanks) the company nevertheless buys into the urge to suppress games. And it's just morally wrong. Tim I don't believe that this is a position that you're actively taking. I think it's happened as a result of a couple of related issues that have bred an awkward censorship
Papers, Please schuf (unfreiwillig) einen Diskussionsansatz, mit dem sich in Zukunft unaufgeregt über das Thema sprechen lässt. Die exzellente iPad-Umsetzung des mehrfach ausgezeichneten 'Dystopian Document Thriller' von Lucas Pope darauf jedoch zu reduzieren, täte dem Puzzle-Titel Unrecht. Ihr solltet ihn auch spielen.
Papers, Please gets players engaged in the idea of document fact-checking by designing more than just a reward structure, but layering rewards to weave a complex and difficult context around making a very simple decision. Thus, engaging interactions seem to not just be about giving users rewards that they care about, but also layering the experience with several levels of interaction and evaluation in order to make each decision more difficult to unravel and thus more intrinsically rewarding to solve. 

Cory Johnson | Gamasutra