Facebooks Video-App erreicht den Apple TV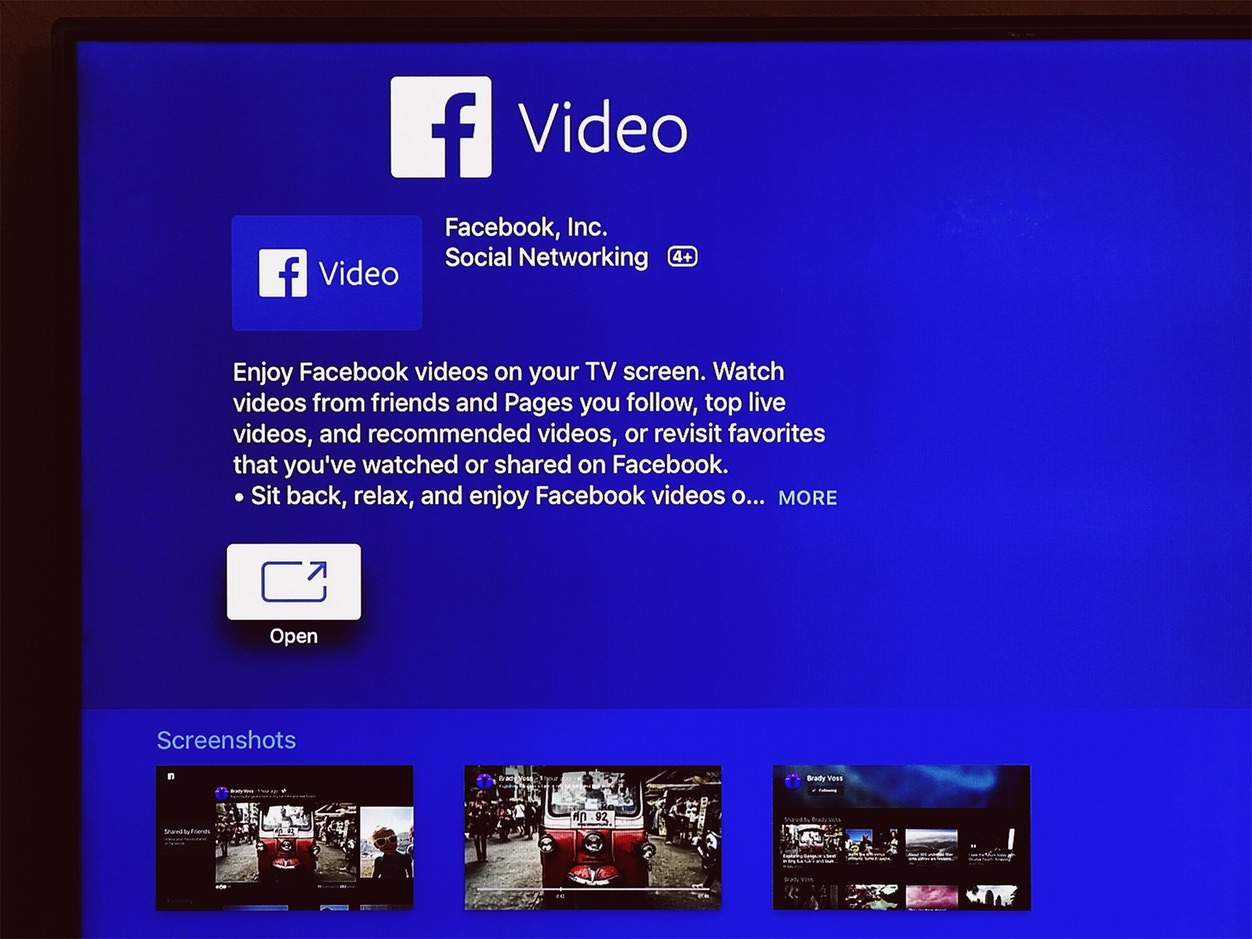 Facebooks Video-App für den neuen Apple TV wäre in ihrer ersten Version keine Bemerkung wert, wenn…ja, wenn sie nicht von Facebook käme. Das Zuckerberg-Netzwerk ist ein Monster in allen Disziplinen: Größe, Reichweite und (täglicher) Aktivität. Es wäre falsch die Veröffentlichung von einer separaten Facebook Video-App zu ignorieren, selbst wenn diese zuerst nur auf ein paar Millionen Apple-, Smart- und Fire TVs zu finden ist.
I want to give you an update on our progress over our 3, 5 and 10-year time horizons, with a particular focus on what we're going to be doing over the next three years. I've said before that I see video as a megatrend on the same order as mobile. That's why we're going to keep putting video first across our family of apps and making it easier for people to capture and share video in new ways.

To make it easier to find and watch videos, we've added a tab at the bottom of the Facebook app with top videos and recommendations. We've already rolled the tab out to everyone in the U.S., and we're planning to bring it to more countries soon.

Mark Zuckerberg, Februar 2017
Jeder, wirklich jeder hat ein Facebook-Konto. Genau genommen finden sich inzwischen 1.86 Milliarden Leute dort. Es ist der Ort, an dem sich Menschen treffen, wenn sie eine freie Minute haben.
Facebook ist vergleichsweise spät aufs Thema Videos aufgesprungen, mittlerweile aber klar gegen YouTube positioniert. Und wenn es Facebook schafft diese langweiligen Minuten zwischendurch, die wir auf Facebook verbringen, mit Videos zu strecken, wäre das unter vielen Gesichtspunkten bemerkenswert.
Facebook Inc. squeezed nearly 30% more revenue per user in the fourth quarter, pumping its advertising muscle ahead of an anticipated slowdown in growth later this year.

Users spent more time watching videos on Facebook and its photo-sharing app Instagram, providing the social media giant with more slots for ads. That built on growth in mobile advertising that Facebook has been taking advantage of for several years.

Each user generated $4.83 in revenue in the fourth quarter, jumping from $3.73 a year earlier, Facebook said Wednesday, helping send the company's revenue up 51% to $8.81 billion.

"Facebook Revenue Jumps Again, Buoyed by Mobile Advertising"