"An Exclusive Look Inside Apple's A13 Bionic Chip"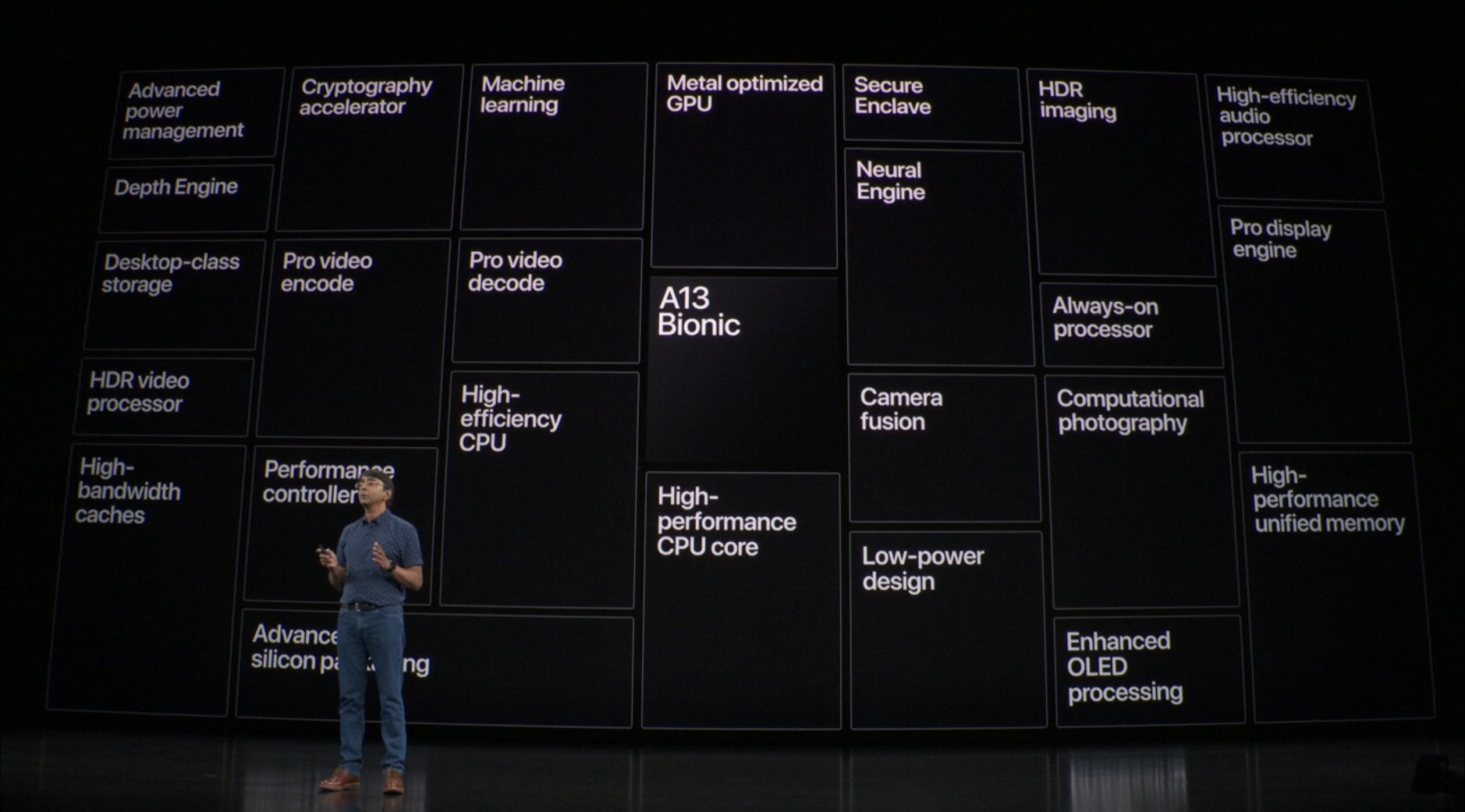 Those chips have some faster components and more of them, so you may think those chips perform better than Apple's. But the reality is that we hardly use the entire capacity of the chips that come in our mobile devices. One or two high-performance cores are enough for most of what we throw at our phones. Apple's six-core design might seem lagging compared to the eight-core processors from the competitors, but really, the two big processors on its chip easily outperform its rivals' designs. Apple's processors consume power more efficiently, and that gives them a distinct advantage over competitors.
Schneller als die eigenen Macs, aber in diesem Jahr mit (deutlich) mehr Akkulaufzeit – so schreibt sich die Geschichte der diesjährigen iPhone-Prozessoren.
iPhone XS (2,658 mAh)
iPhone 11 Pro (3,190 mAh) = +4h Laufzeit
iPhone XS Max (3,174 mAh)
iPhone 11 Pro Max (3,969 mAh) = +5h Laufzeit
iPhone XR (2,942 mAh)
iPhone 11 (3046 mAh) = +1h Laufzeit
Die gesteigerte Kapazität der Batterie steht selbstverständlich in direkter Korrelation mit der längeren Laufzeit, ist jedoch keinesfalls alleine dafür verantwortlich.
So what happens inside the A13 Bionic when it goes to work? The general concept involves assignments, delegation, and hand-offs. For low-energy tasks—say opening and reading email—the iPhone will use the more efficient cores. But for more intense tasks like loading complex web pages, the high-performance cores take charge. For some routine and well established machine-learning work, the neural engine can hum along by itself. But for newer, more cutting-edge machine-learning models, the CPU and its specialized machine-learning accelerators lend a helping hand.

Apple's secret, though, lies in the way all of these various parts of the chip work together in a way that conserves battery power.
Ähnlich wie bei der Watch legt Apple in diesem Jahr den eigenen Fokus auf die "performance per watt" und nicht ausschließlich auf die generelle Geschwindigkeitssteigerung, die bei rund 20-Prozent liegt.