[KlimBim] Jonathan Ive und Steve Jobs, Macworld-Review, Mirror's Edge und offizielle iPad-Verkaufszahlen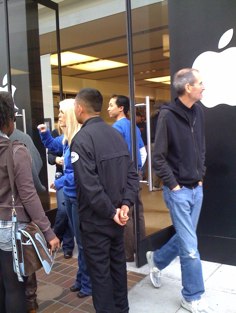 Jedi-Meister und Padawan-Schüler lassen sich ebenfalls am Verkaufstag blicken.
via vipad.fr + twitter@Jason_Diaz
~~~~
Jason Snell schreibt für Macworld ein wirklich gutes iPad-Review.
Geeky chip talk aside, the iPad flies. […] the iPad has taken the crown as the fastest iPhone OS device on the planet.
If you charge the iPad overnight, you can pretty much use it the whole day.
If you're a comic-book fan, buying an iPad is buying into the future of the medium.
Another missing feature that would make sense on the iPad is the ability to connect to iTunes shared libraries.
The iPad isn't going to replace a MacBook Pro anytime soon. But let's face it: there are plenty of tasks that we currently use laptops for (checking e-mail and Twitter, surfing the Web, looking up some actor on IMDB) that don't really tap the power of a laptop.
You can now set a wallpaper image behind the home screen, for that extra personalized touch.
And the dock at the bottom of the screen can hold up to six apps, rather than the iPad's four.
The existence of the App Store and a thriving community of iPhone OS app developers exponentially increases the functionality of this device.
Holding the iPad feels like you're holding the future, and not in a hazy dream-like way, but in a I can't believe I'm actually here kind of way.
ut whether or not the iPad becomes a smash hit right away, or if it takes time for this sort of device to be embraced by the public as a whole, that doesn't change how strong a product it is.
~~~~
Mirror's Edge ($12.99; US-Store) von Electronic Arts ist aus unerfindlichen Gründen derzeit lediglich im amerikanischen App Store erhältlich. Eine iPhone-Version war bereits für Januar 2010 angekündigt.
~~~~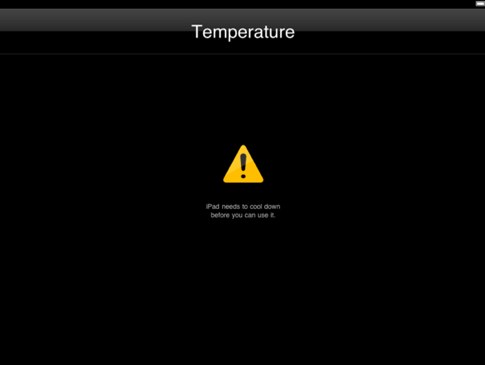 Auch für iPad-Benutzer gilt, was auf dem iPhone erlernt wurde: Die Höchsttemperaturen (Betriebstemperatur: 0 °C bis 35 °C; Lagertemperatur: -20 °C bis 45 °C) beachten und zum Aufladen an einen entsprechend leistungsfähigen USB-Port verwenden.
~~~~

Nach zahlreichen Spekulationen veröffentlicht Apple eigenständige iPad-Verkaufszahlen. Am ersten Tag sind in den USA 300.000 Geräte über den Tisch gegangen. Die Zahlen beinhalten Vorbestellungen sowie die Absätze im Apple Store und den anderen Verkaufskanälen.
iPad-Benutzer haben bereits über eine Millionen Anwendungen aus dem App Store geladen sowie 250.000 eBooks im iBookstore gekauft.
"It feels great to have the iPad launched into the world—it's going to be a game changer," said Steve Jobs, Apple's CEO. "iPad users, on average, downloaded more than three apps and close to one book within hours of unpacking their new iPad."
via apple.com/pr