[KlimBim] Family Man-Ad, Adobes CS5, iNetbook, iPhone-Webseiten, Multitasking-Animation und FarmVilleiPhone.com
Der kleine Werbe-Nachzügler "Family Man" erreicht einen Tag nach den Videobeiträgen "Dog Lover" und "Backpacker" die Apple-Webseite.
via apple.com
~~~~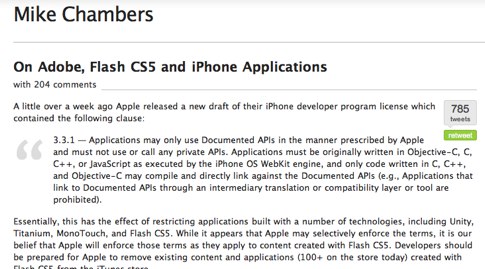 Der Adobe Flash-Produktmanager Mike Chambers schreibt in sein privates Weblog den Beitrag "On Adobe, Flash CS5 and iPhone Applications", indem er die offizielle (?) Adobe-Abkehr von weiteren Investitionen für das iPhone OS ankündigt.
We will still be shipping the ability to target the iPhone and iPad in Flash CS5. However, we are not currently planning any additional investments in that feature.
Mit Flash CS5 stellt Adobe Exportwerkzeuge bereit, die (vereinfacht ausgedrückt) Flash-Anwendungen zu iPhone-Programmen mutieren lassen. Apple hatte stillschweigend die Fußnote 3.3.1 der SDK-Lizenzvereinbarung geändert, die eine Verwendung von Cross-Compilern verbietet. Gegenüber Cnet soll eine Apple-Sprecherin (Trudy Muller?) den markanten Satz geäußert haben:
Someone has it backwards–it is HTML5, CSS, JavaScript, and H.264 (all supported by the iPhone and iPad) that are open and standard, while Adobe's Flash is closed and proprietary
via daringfireball
~~~~
(Danke, Fabian!)
~~~~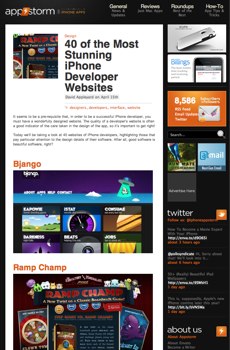 Zu einer guten iPhone-App gehört eine gute Webseite!
-> 40 of the Most Stunning iPhone Developer Websites
via Tion@Twitter
~~~~
Florian Schimanke fasst die marginalen Veränderungen der iPhone OS 4.0 beta2 kurz zusammen, und bindet ein Video von unseren amerikanischen Kollegen TiPb ein, welches die Multitasking-Animationen beim Programmwechsel demonstriert.
via schimanke
~~~~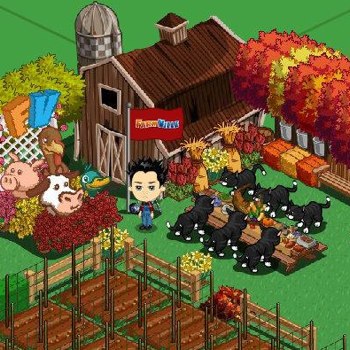 Screenshot: Rusty Boxcars (cc)
Die nicht nur sprichwörtlich Letzte aller Schreckensmeldungen am heutigen Abend: Der Facebook-Spieleproduzent Zynga registriert unter anderem die Internet-Adressen Farmvilleipad.com und Farmvilleiphone.com!
via joystiq