Presse-Embargo abgelaufen: Erste US-Reviews Online
In der gestrigen Nacht fiel das Presse-Embargo für die ersten iPhone 4-Reviews der 'üblichen Verdächtigen'. Die Quintessenz der Artikel soll kurz herausgestellt werden.
Engadget – Joshua Topolsky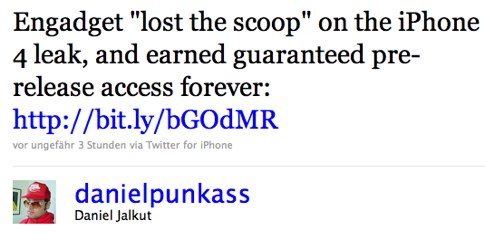 Apple seems to have completely rethought its strategy on how the phone should look and feel, and the results are nothing if not striking.
Jony Ive and his team have reset what we expect in an iPhone, coming up with something that clearly harkens back to the retro-future Braun designs of Dieter Rams.
The 3GS now feels cheap and chubby by comparison, and even a phone like the HTC Droid Incredible — which just came out — seems last-generation.
And it's not just the way the phone looks; the materials feel good — premium — in your hands.
Let's just say that again: yes, the iPhone 4 does seem to alleviate the dropped call issue.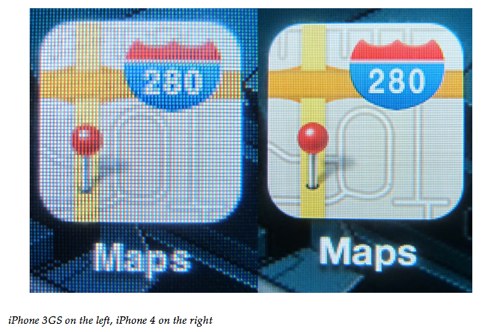 Not only are the colors and blacks deep and rich, but you simply cannot see pixels on the screen.
…the iPhone 4 was usually able to take completely useable and even handsome photos in fairly low light without the flash.
In general, we'd have no trouble using the iPhone 4's camera as a stand-in for a dedicated camera.
Around front, the VGA camera is… well, a VGA camera.
[FaceTime] While this may be an unscientific perspective, it suggests that it's not enough to just have the tech — the feature needs to be sold to people.
We've got a few bumpers in-house, and while we're not really big fans of the way they look or feel, they do seem to protect the phone pretty well.
In fact, we managed to squeeze more than 38 hours — yes, 38 hours — of life out of a single charge using the phone as we normally would.
We're not going to beat around the bush — in our approximation, the iPhone 4 is the best smartphone on the market right now.
~~~~
The New York Times – David Pogue
Ordinarily, this is where you'd expect to find a review of it. But honestly — what's the point? The iPhone 4 is already a hit.
But it no longer feels like a soothing worry stone, and it's now impossible to tell by touch which way it's facing in your pocket.
This feature, called FaceTime, is pure Apple.
Does any of this mean no more dropped calls in New York and San Francisco? No. But there do seem to be fewer of them.
If what you care about, however, is size and shape, beauty and battery life, polish and pleasure, then the iPhone 4 is calling your name. But you probably didn't need a review to tell you that.
-> New iPhone Arrives; Rivals, Beware
~~~~
BoingBoing – Xeni Jardin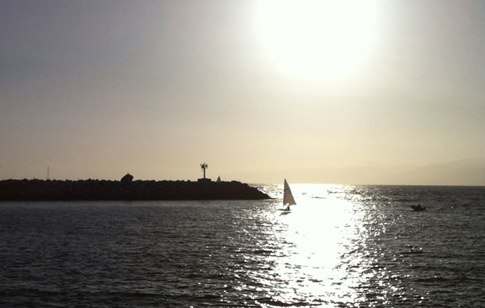 Once my hand got used to it, the 3GS body felt more like a toy, and I didn't much feel like holding it anymore.
With very heavy video recording and playback, instant messaging, email and data tethering over 3G, I got a full day of battery life.
I can't provide specific percentages, but it felt like the battery life was a good 20-25% meatier.
AT&T still sucks, and the best engineering out of Cupertino won't change that.
I brought my iPhone 3GS and iPhone 4 to the Venice Beach skate park, to take shots of fast-moving skaters in those magical aerial moments […] I was able to tap-tap-tap in rapid succession, or tap once at just the right instant, and bring home some real trophy jpegs.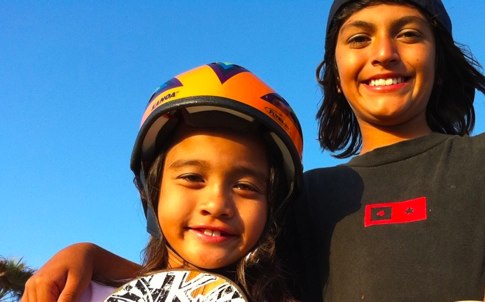 And for non-videobloggers, it [HD-Video] means you'll now be getting lots more annoying (but visually good quality) home movies of your relatives' Hawaiian vacations in your in-box.
This [ORIENTATION LOCK] would be especially handy for videos or gaming while you're passed out drunk in the gutter or relaxing on your couch at home.
-> Apple iPhone 4: Hands-on review
~~~~
USA Today – Ed Baig
The new iPhone 4 I've been testing for about a week and a half — along with the major refresh of the mobile operating system software at the core of recent models — demonstrates once again why Apple's handset is the one to beat, even as it faces fierce competition from phones based on Google's Android platform, among others.
Apple says the glass is chemically strengthened to be 20 times stiffer and 30 times harder than plastic. To reinforce the point, an Apple executive dropped it in front of me. The phone was undamaged.
I was impressed with the quality and ease of FaceTime calling, though the experience seems to depend on a strong Wi-Fi connection.
-> Review: Apple makes all the right calls on iPhone 4
~~~~
The Wall Street Journal – Walt Mossberg
The most important downside of the iPhone 4 is that, in the U.S., it's shackled to AT&T, which not only still operates a network that has trouble connecting and maintaining calls in many cities, but now has abandoned unlimited, flat-rate data plans. Apple needs a second network.
-> New iPhone Keeps Apple Top of Class
~~~~
'The Boy Genius Report' hat zusätzlich eine umfangreiche Bildergalerie. Die Jungs von iFixit attestieren in ihrem "Teardown" die vermuteten 512 MB-Arbeitsspeicher.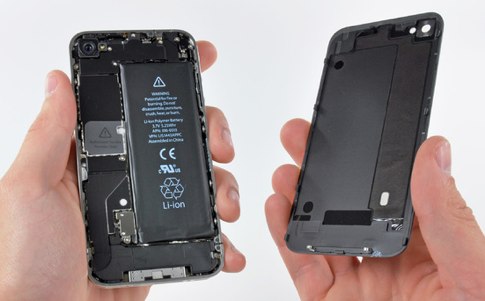 Überall sprießen Test-Videos der iPhone 4-Kamera aus dem Boden. Ich kann die bewegten Bilder im Engadget-Artikel empfehlen, der in diesem Jahr für mich die beste Zusammenfassung liefert.