[update] IDC Zahlen: Apple springt unter die Top 5 der weltweiten Mobilfunkhersteller
Im Januar 2007 stellte Apple das iPhone mit dem Ziel vor, im ersten Verkaufsjahr 10 Millionen Geräte abzusetzen. Drei Jahre später verkaufte Cupertino alleine in den letzten drei Monaten 14.1 Millionen iPhones. Mit diesen Zahlen sicherte sich Apple nun erstmals nach den Statistiken von IDC (übereinstimmend mit Strategy Analytics) den vierten Platz in der weltweiten Bestenliste von Mobilfunkverkäufern und tritt dort zusammen mit RIM als reiner Smartphone-Anbieter auf.
Though Apple has consistently been a top smartphone vendor, this marks the first quarter that Apple has cracked the top 5 list of global mobile phone vendors.
via AppleInsider
Diese Neuordnung drückte RIMs BlackBerrys auf Platz 5 und stieß Sony Ericsson erstmals komplett aus der Bestenliste, die von den 'International-Data-Corporation'-Marktforschungsanalysten seit 2004 erhoben wird.

Apple leapt ahead of several vendors in 3Q10 including RIM, which it surpassed by 1.7-million units, and Sony Ericsson by 3.7-million units. The company's record shipment performance can be attributed to the introduction of the iPhone 4 in 17 new countries last quarter. The record performance came despite "Antennagate," the name used to describe the controversy around alleged iPhone reception problems, in July.
Weltweit beziffert IDC das Wachstum im gesamten Mobilfunkmarkt auf 13-Prozent in Q3/2010 entgegen 16-Prozent der ersten sechs Monate diesen Jahres.
Some brands outperformed, such as Apple and ZTE, while others underperformed, such as LG and Nokia. […] Apple dominated its competitors with a 90.5 percent year-over-year increase in sales.
Bereits in der Telefonkonferenz zu den Apple-Geschäftszahlen äußerte sich Steve Jobs zum Mitbewerber Research in Motion: "I don't see them catching up with us in the foreseeable future. It will be a challenge for them to create a mobile software platform and convince developers to support a third platform".
Darauf antwortete Co-CEO Jim Balsillie:
Apple's preference to compare its September-ending quarter with RIM's August-ending quarter doesn't tell the whole story because it doesn't take into account that industry demand in September is typically stronger than summer months, nor does it explain why Apple only shipped 8.4 million devices in its prior quarter and whether Apple's Q4 results were padded by unfulfilled Q3 customer demand and channel orders.
Update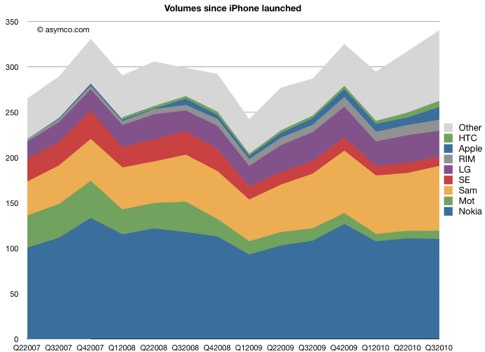 Wie gewohnt empfehlenswert: Horace Dediu mit einer visuellen Übersicht des Marktvolumens.
via asymco