"Oh no UDID'nt!" *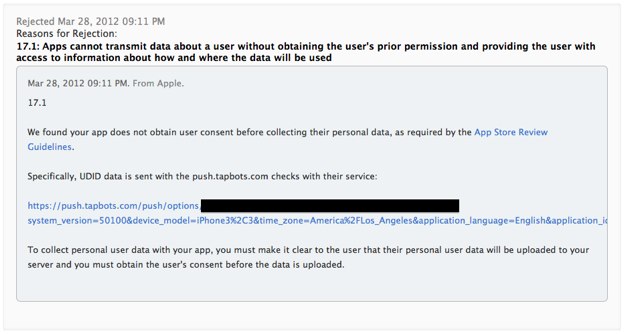 There's been a lot of rumors going around lately that Apple is rejecting applications that send out device UDIDs but there's not been any direct confirmation from Apple that this is a new policy. Well this morning we just got that confirmation in the form of a rejection.
Der UDID-Zugriff für Entwickler steht seit vergangenem Herbst auf der Abschussliste. Das Tweetbot-Entwicklerstudio 'Tapbots' bestätigt durch eine eigene App-Store-Ablehnung jetzt die Durchsetzung dieser vorbereiteten Einschränkung. Schon am vergangenen Wochenende tauchten entsprechende Medienberichte auf.
Durch die Verwendung der eindeutigen Gerätenummer können beispielsweise Werbe- und Statistik-Anbieter App-übergreifend Nutzerverhalten aufzeichnen. Es existiert jedoch auch ein ganzes Bündel an legitimen Gründen für die unverwechselbare Geräte-Identifikation. Eine (gleichwertige) Alternative bietet Apple nicht an. Knackpunkt bleibt aber (erneut) die fehlende Kommunikation, mit der Cupertino eine lediglich als 'auslaufend' gekennzeichnete Funktion, sechs Monate später, im individuellen Review-Prozess als Ablehnungsgrund benutzt.
All it takes is clarity. If they're going to make such a major change, they've already got our attention via e-mails, the developer portal, and many other channels. They could and should clearly state the what, why, when, and how of policy changes. "We're getting rid of UDIDs, because they constitute a privacy risk. We'll reject any app that calls -[UIDevice uniqueIdentifier] as of March 23, 2012."