ChangeWave: Jeder Zweite plant den iPhone-Kauf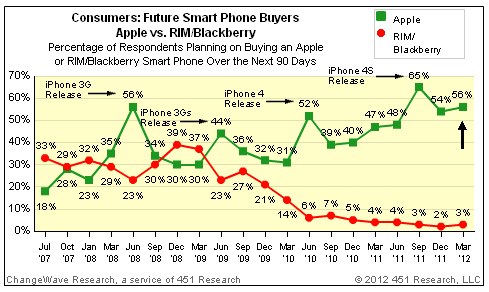 Philip Elmer-Dewitt trifft den Nagel für die begrenzte Aussagekraft der Umfrage auf den Kopf:
The 4,413 consumers polled in ChangeWave Research's March survey are not exactly a representative cross-section of the buying public. They're primarily American (87%) and almost all early-adopter types. But as ChangeWave members they do tend to indicate which way the technological wind is blowing.
Der RIM-Graph ist nur dekoratives Beiwerk. Interessant sind die Umfrage-Spitzen der ChangeWave-Statistik von befragten Konsumenten, die innerhalb der nächsten drei Monate einen iPhone-Kauf planen. Die aktuellen 56-Prozent geben a) der Dezember-Erhebung für das Weihnachtsgeschäft Rückendeckung und b) stellen die mit Abstand höchsten Werte abseits einer iPhone-Veröffentlichung dar.
Willkommen im Massenmarkt.