Im iBookstore: *Markdown* von David Sparks & Eddie Smith
Seit iOS ist Markdown hip. Richtig gelernt habe ich es trotzdem nie. Daran bin ich natürlich selbst Schuld, schiebe meine Handvoll erfolgloser Anläufe aber gerne auf einen fehlenden Ratgeber, der alle Wie-, Was- und Warum-Fragen gebündelt beantwortet.
Mit Markdown (7.49 €; iBookstore) von David Sparks & Eddie Smith zählt diese Ausrede jetzt nicht mehr. Das englischsprachige iPad-Buch, erneut in iBooks Author zusammengestellt, arbeitet die Auszeichnungselemente vollständig ab, nimmt aktuelle Texteditoren unter die Lupe und ordnet das Ganze in Workflow-Schubladen ein.
Wer David Sparks von seinem Podcast, den Screencasts oder aus Vorträgen kennt, wird die 1.5h Videomaterial (plus Audio-Interviews mit Merlin Mann oder Brett Terpstra) im Buch zusätzlich schätzen.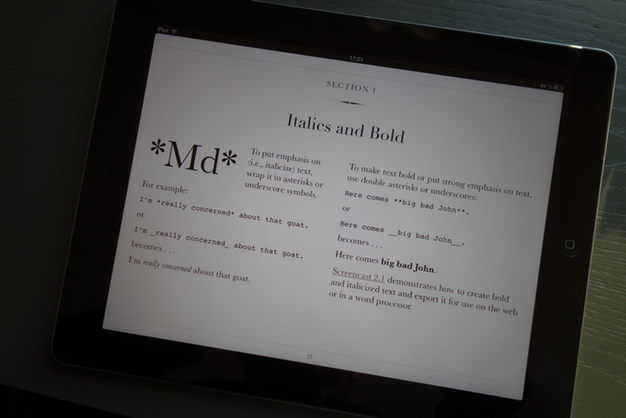 iOS seems to be helping the Markdown cause. While it is unlikely John Gruber ever imagined Markdown would be such an ideal writing tool for mobile devices, that is exactly what it has become. Plain text is more ideal for writing on low-powered devices. It's also easier to sync across multiple apps and platforms.