50% der 'aktiven' Androids laufen unter Version 4.x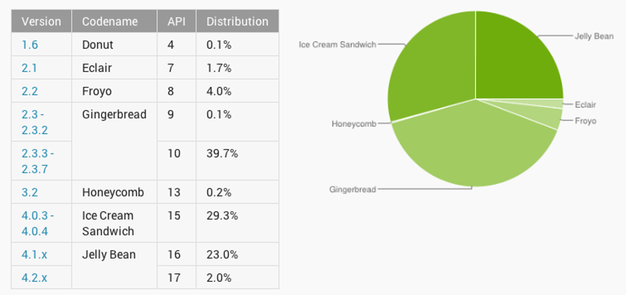 Beginning in April, 2013, these charts are now built using data collected from each device when the user visits the Google Play Store. Previously, the data was collected when the device simply checked-in to Google servers.
Google ändert seine Zählweise, die zur Verteilung der verschiedenen Android-Versionen führt. Richtig: Aus Perspektive der Software-Entwickler ist ein Besuch im Play Store relevanter als eine Anmeldung auf dem Google-Konto.
Die bereinigte Statistik stellt nun präziser dar, wer sein Smartphone-OS für mehr als nur Telefonie (und Standard-Apps) nutzt. Von diesen aktiven Nutzern sind allerdings nur 50-Prozent auf einer der aktuellen 4.x-Versionen.
Apple schlüsselt die iOS-Verteilung nicht auf, gab zuletzt jedoch 500 Millionen aktive App-Store-Kunden und 300 Millionen iOS-6-Geräte (in den ersten fünf Monaten nach dem Betriebssystem-Update) zu Protokoll.