Search Ads ≠ Better Search
I think that Apple saw how concerned people were about paid search ads when the Bloomberg story came out, and decided that rather than having the entire discussion post-keynote be about that, they would instead announce it formally, along with improved subscriptions and the already-happening "faster review". Let the storm clear, and then move on.
Charles Arthur | "Apple's paid search experiment shows there's still no PageRank for apps"
Apples Intention für App-Store-Ads mögen stimmen (kein Tracking, keine Datenweitergabe, keine Ads für Kids und Jugendliche, deutliche Auszeichnung, etc.); ich bleibe aber skeptisch wie gut die werbenden Apps zum eingetippten Suchergebnis passen und ob App-Store-Nutzer darüber tatsächlich die für sie relevanten Apps finden.
Die Ankündigung fällt nämlich in eine Zeit, in der einfachste Suchbegriffe immer noch ernüchternde Trefferquoten erzielen. Wer heute nach "Instagram" sucht, bekommt an Position 1 den korrekten Treffer der Facebook-Tochterfirma. Direkt danach blickt man aber schon ernüchternd auf Software-Vorschläge wie Get Followers for Instagram, More Real Likes, Followers + for Instagram, 5000 Likes Pro und Get followers, views, and likes on 1000Followers. Erst an siebter Position erscheint Layout, die Collagen-App aus dem Hause Instagram (und erst viel später Instagrams Hyperlapse).
"We look at it as giving every developer the chance to drive downloads through marketing," Schiller said.
Niemand weiß, was die anstehenden WWDC noch verspricht (Sortiert Apple vielleicht alte und kaputte Apps aus?). Meine Erwartung an App-Store-Ads, die auf der Suchseite einen kompletten Suchergebnis-Platz einnehmen, ist jedoch nicht hoch. Im besten Fall stören sie mich nicht…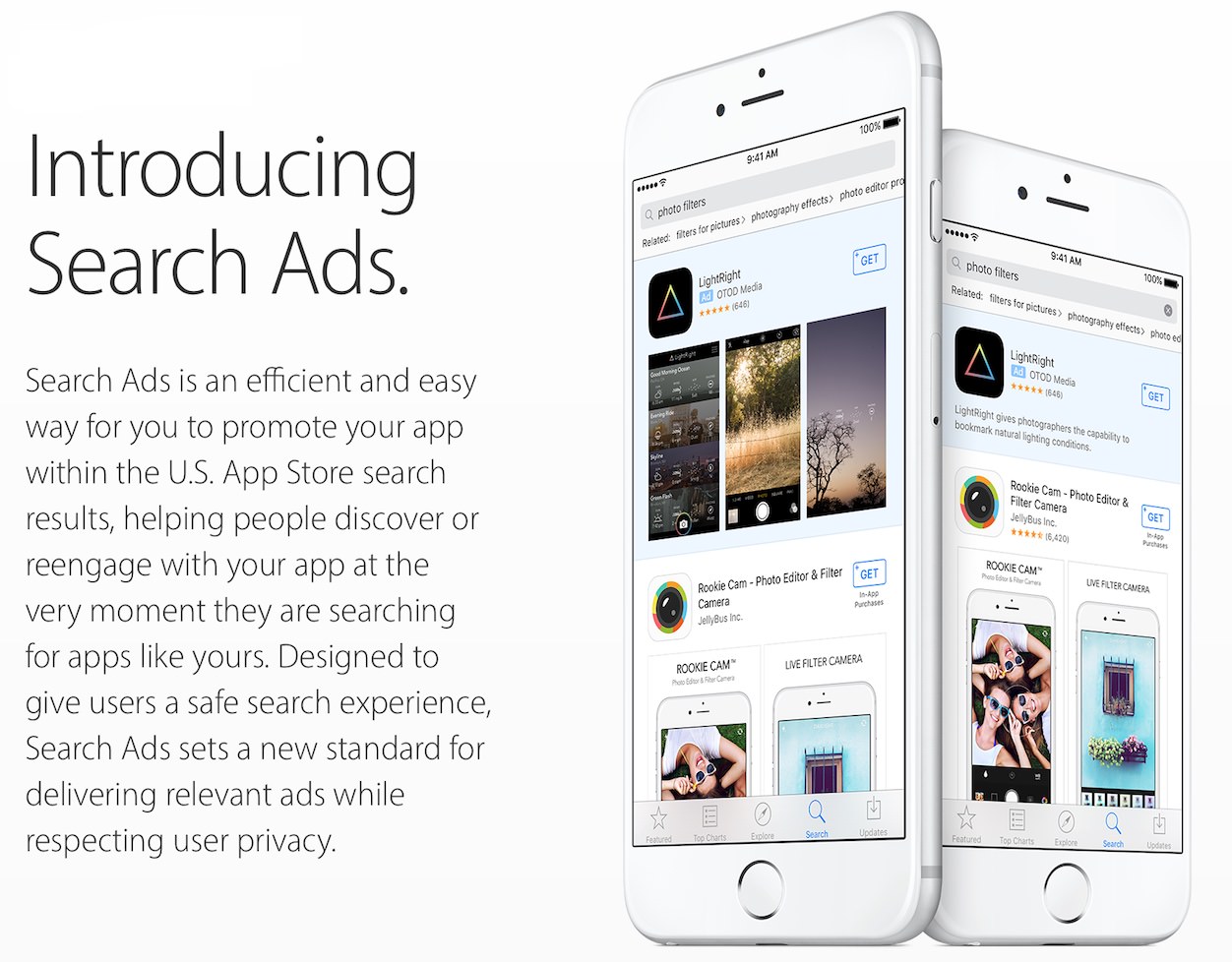 Dass das Marketingbudget von Entwicklern grundsätzlich besser im App Store selbst aufgehoben ist als bei Facebook und Google, leuchtet ein. Ich habe jedoch die Befürchtung, dass ausschließlich die 'Clash of Clans' und 'Mobile Strikes' diese Werbeplätze an sich reißen. Und ich bleibe solange skeptisch bis Apple eine App-Store-Suche mit konstant relevanten Treffern demonstriert zu denen Search Ads komplementär funktionieren.