Jony Ive verlässt Apple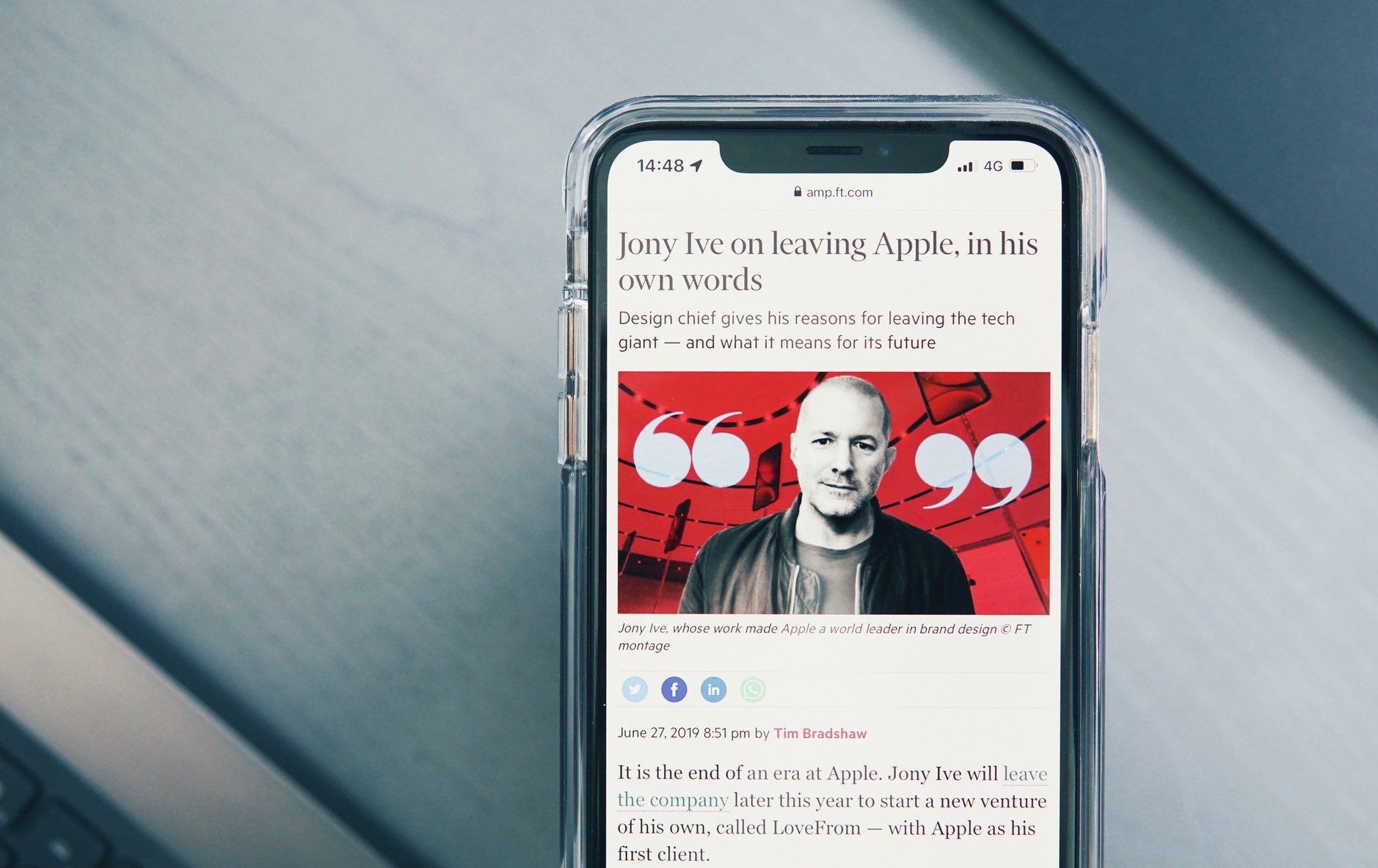 Apple today announced that Sir Jony Ive, Apple's chief design officer, will depart the company as an employee later this year to form an independent design company which will count Apple among its primary clients. While he pursues personal projects, Ive in his new company will continue to work closely and on a range of projects with Apple.
Jony Ives Abtritt zählt zu Apples größter personeller Veränderung seit dem Tod von Steve Jobs.
Überraschend ist der Abgang jedoch nicht: Seinen Titel als 'Chief Design Officer', den er vor vier Jahren – kurz nach der Einführung der Apple Watch – erhielt, war der Auftakt für einen sorgfältig orchestrierten Führungswechsel.
About three months later, Ive was named Apple's Chief Design Officer, a role that shifted day-to-day responsibility of the hardware and software design teams to a pair of executives, Alan Dye and Richard Howarth. About two years later, at the end of 2017, Apple said Ive had re-assumed some of the leadership responsibilities he had previously given up.

Ive still only came to the office a couple of days a week, with many meetings shifting to San Francisco, according the people familiar with the matter. That helped him avoid the long commute from his home in the Pacific Heights district of the city to Apple's headquarters in Cupertino, California. Ive sometimes met with his team at the homes of his employees, at hotels, or other venues. The design executive even set up an office and studio in San Francisco to do much of his work.
Rückblickend war Apple Watch wohl Jonys letzter Computer, den er als Apple-Angestellter mit seiner kompletter Beteiligung (und Begeisterung) gestaltete. Im Anschluss folgte eine Phase der kompletten Erschöpfung, wie sich im Portrait von Ian Parker nachlesen lässt ("In recent months, Sir Jonathan Ive described himself as both deeply, deeply tired and always anxious").
Jony Ive had moved beyond designing computers. And let's be clear: the entire point of Apple has always been and should always remain designing computers. Everything they make is a computer. Their genius in recent years has been making things that don't seem like computers but really are computers. Apple Watch is a computer. AirPods are computers. We've got computers — excellent computers — in our fucking ears. That's Apple.

But Ive's attention turned more toward architecture. Apple Park is going to be a 100-year testimony to Jony Ive's design. And it's fascinating to me that Ive is leaving Apple with a single typeface — San Francisco — that the company now uses for everything.
Die Arbeit, und das gilt es besonders herauszustellen, unterlag (natürlich) nie alleine Jony Ive. Es war die 'Industrial Design Group' – das überschaubare interne Team von zirka 20 Köpfen, die den größten Einfluss bei Apple bis heute ausüben.
Jony Ive sagte selbst: "Though we don't want people to leave the group, the lack of movement makes it difficult to bring in fresh talent," he said. "We need new people at regular intervals to prevent ourselves from stagnating. But this can only happen if other people are willing to leave.1"
In den letzten drei Jahren verlor dieses Team sechs seiner Mitglieder. Und auch wenn Jony Ive zuletzt weniger involviert war, hatte er trotzdem das letzte Wort. Er war jemand, der nein sagen konnte.
Das Apple diese Rolle jetzt nicht direkt neu besetzt, ist vielleicht nachvollziehbar: Die Fußstapfen sind zu groß; es ist zum derzeitigen Augenblick eine unmögliche Aufgabe. Obendrein birgt es die Gefahr, einen solchen Wandel nicht ungestört (intern) aufarbeiten zu können. Dass das Design-Team, namentlich Evans Hankey (Industriedesign) und Alan Dye (Human Interface Design), jetzt jedoch an Jeff Williams berichten – dem "Chief Operating Officer" ohne Design-Hintergrund – erscheint zumindest fragwürdig. Über kurz oder lang wird man einen neuen 'Chief Design Officer' benennen müssen.
Ähnlich viele Fragen wirft bei mir aber auch die Deutlichkeit auf, mit der Apple und Jony eine zukünftige Zusammenarbeit betonen. So drückt Tim Cook sich in seinem Brief an die Belegschaft aus:
Today, we also mark another important evolution for our company. After nearly 30 years at Apple, Jony Ive is starting an independent design firm which will count Apple among its primary clients and will depart the company as an employee later this year. (…)

We will all benefit — as individuals who value great design, and as a company — as he pursues his passions and continues his dedicated work with Apple.
Und diese Worte findet Jony Ive:
"While I will not be an employee, I will still be very involved — I hope for many, many years to come. This just seems like a natural and gentle time to make this change.

I am so close to the design team . . . The last 30 years have seen a range of significant products, but I think the creation of an approach to creativity, to culture and the building of a team together has been a real labour of love. I really am extremely happy — this really I see as an evolution of our working relationship.
Klar kann man das als PR-Dreh abkanzeln. Auch meine erste Reaktion war: Nette Inszenierung! Und wenn es nicht Jony Ive wäre, über den wir hier sprechen, hätte ich dieses initiale Bauchgefühl auch nicht in Frage gestellt.
Wenn man jedoch mal darüber nachdenkt, ist es vielleicht eine längere Fackelübergabe; ein Generationswechsel, den Ive als Ausnahmetalent begleiten will, weil ihm sein Erbe wichtig ist. Seine 'Legacy' findet sich nämlich nicht in einem von seinen Produkten, sondern in der bei Apple geschaffenen Kultur und dem Prozess für Produktentwicklung.
Jony Ives Beziehung zu Apple war immer besonders; es war keine typische Zusammenarbeit zwischen Arbeitnehmer und Arbeitgeber.
Ohne Ive (vor Ort) und mit "fresh talent" in der 'Industrial Design Group' startet nun zweifellos eine neue Ära. Sie startet mit jungen Designern, die mit iPhones und iPads aufwuchsen. Und ich halte es nicht für unmöglich, dass Apple seinem 'Chief Design Officer' alle erdenklichen Freiheiten einräumt daran mitzuwirken – selbst wenn das auf seinen Wunsch in einer beratenden Funktion ohne (Fest‑)Anstellung geschieht.