iOS 13.2: erster öffentlicher "Deep Fusion"-Probelauf
The camera shoots a 'short' frame, at a negative EV value. Basically a slightly darker image than you'd like, and pulls sharpness from this frame. It then shoots 3 regular EV0 photos and a 'long' EV+ frame, registers alignment and blends those together.

This produces two 12MP photos – 24MP worth of data – which are combined into one 12MP result photo. The combination of the two is done using 4 separate neural networks which take into account the noise characteristics of Apple's camera sensors as well as the subject matter in the image. […]

The overall result, Apple says, results in better skin transitions, better clothing detail and better crispness at the edges of moving subjects.
Ich habe meinen Versuchsaufbau für "Deep Fusion" aus der aktuellen iOS-Beta heute in ein Video gepackt – "quick and dirty". Dabei habe ich bewusst darauf geachtet, nicht zwei unterschiedliche iPhone-Kameras zu benutzen, sondern "Deep Fusion" über die iOS-Einstellungen "Fotoaufnahme außerhalb des Rahmens" zu aktivieren beziehungsweise zu deaktivieren.
Die zwei HEICs, die beim Ausprobieren entstanden sind, sehen so aus.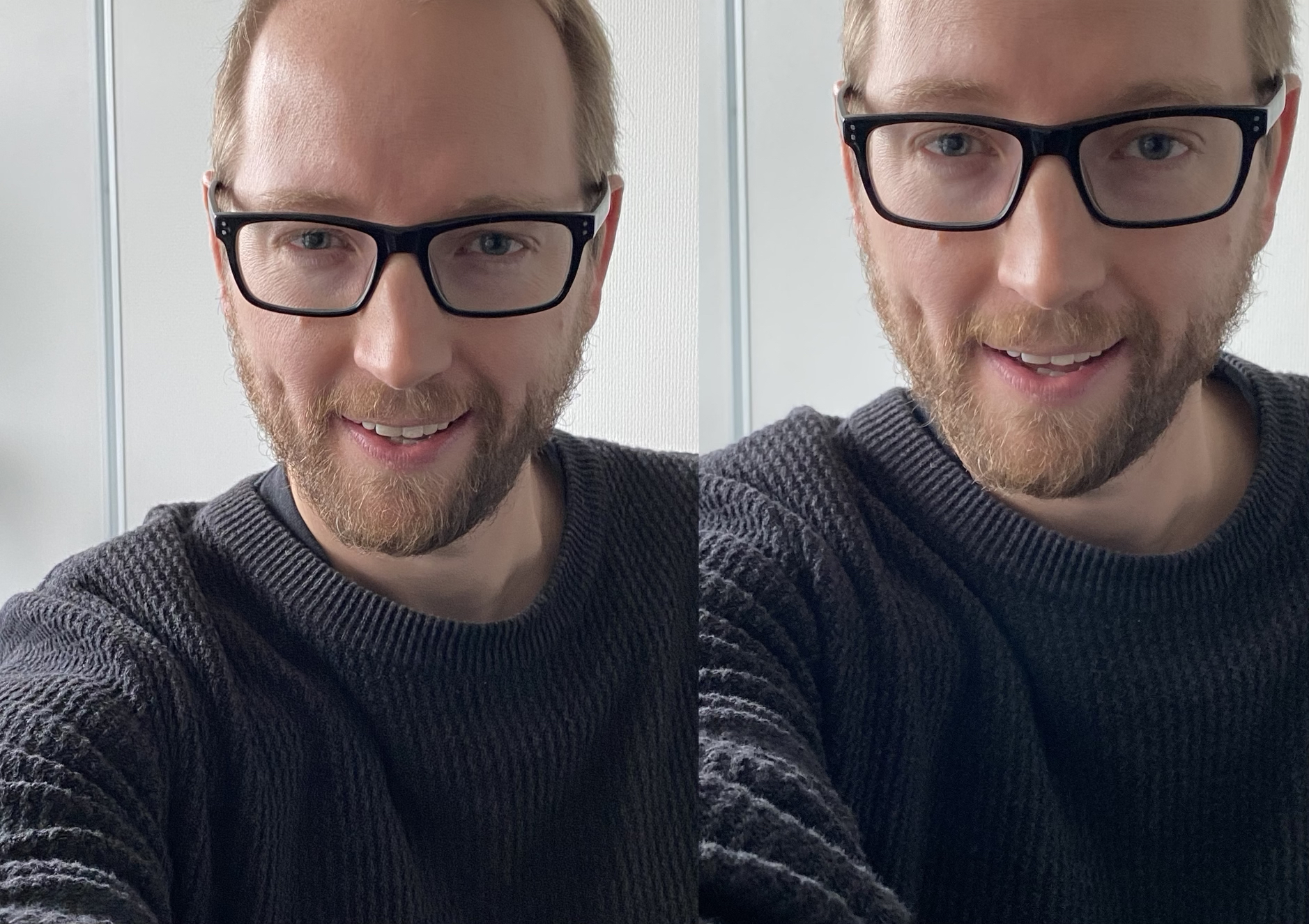 In Originalgröße könnt ihr euch die Bilder hier (mit Deep Fusion) und hier (ohne Deep Fusion) anschauen.
Wie kräftig Deep Fusion in euer Bild eingreift, scheint enorm abhängig davon zu sein was ihr fotografiert und wie viel Licht dafür zur Verfügung steht. Sobald ihr nämlich ausreichend gut beleuchtet seid, kann ich kaum Unterscheide ausmachen. In extrem hellen Situationen scheint Smart HDR für die grundlegende Bildverbesserungen zuständig.
What I've been told is that Deep Fusion applies between 600-10 lux. Night Mode is for 10 or fewer lux. They are mutually exclusive.

— John Gruber (@gruber) October 3, 2019
Am ehesten nachzuvollziehen ist die Korrektur der Schärfe, den Highlights oder den Hauttönen tatsächlich beim schnellen Wechsel in die Foto-Vorschau. Ruft man sein geknipstes Bild direkt auf, sieht man die Anpassungen von Deep Fusion für eine Millisekunde.
Für Gegenüberstellungen von zwei oder mehr Fotos, eignet sich übrigens die App HashPhotos ganz hervorragend.