Neue AirPods-Firmware enthält automatischen Gerätewechsel und "Spatial Audio"
iOS 14 rückt näher. Zum Ende der Beta-Phase erhalten die AirPods Pro den zur WWDC versprochenen 3D-Klang ("Spatial Audio") sowie den automatischen Kopfhörerwechsel zwischen Apple-Geräten.
Voraussetzung ist die Beta-Version des Betriebssystems sowie die neue Firmware (3A283) der AirPods (➝ Einstellungen ➝ Allgemein ➝ Über).
When you're wearing AirPods Pro, you don't have a full surround sound system in your ears. To make the audio seem like it's coming from multiple speakers placed around you, spatial audio applies directional audio filters and tweaks the frequencies going into each ear to simulate the sound of individually placed surround sound speakers.

But there's a lot more to it than that. As I previously noted, the sound field created by spatial audio is oriented to your device to stay immersive, so when you do something like moving your head but not your device, the audio filters change dynamically to "move" the audio around you as though you were turning your head in a theatre.

To do this, spatial audio uses the built-in accelerometer and gyroscope in your AirPods Pro to dynamically track the movement of your head relative to your device. Spatial audio also tracks the movements of the device to keep the sound field consistent.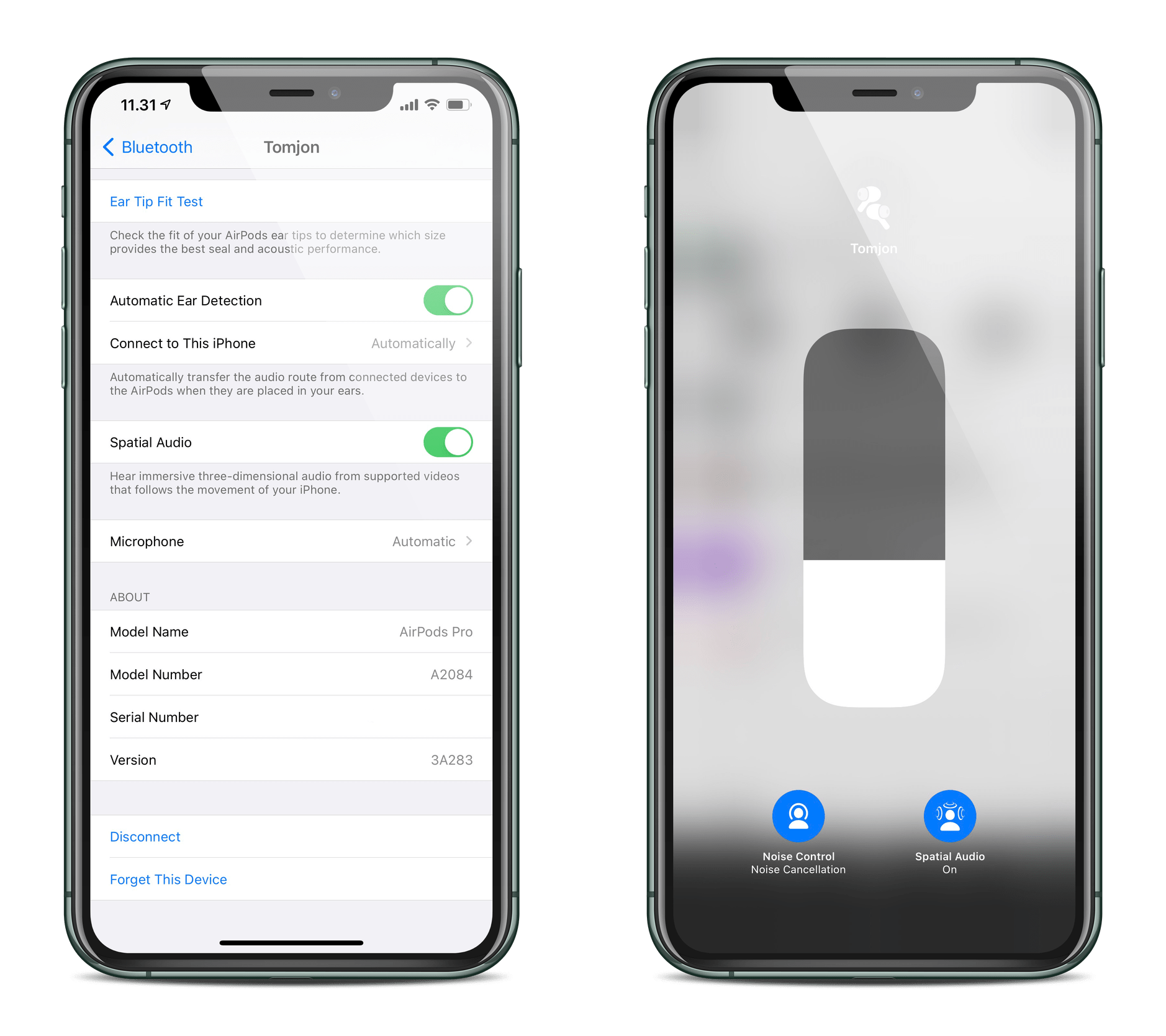 Für den (recht beeindruckenden) 3D-Audio-Test kann man mal Apples Greyhound oder Disneys Hamilton starten und dann den Kopf nach links beziehungsweise rechts drehen.
Und auch der Schnellwechsel klappt in meinen ersten Versuchen zwischen einem iPhone 11 Pro und iPad Pro reibungslos. Auf dem Gerät, dass die Audioausgabe verliert, blendet sich eine entsprechende Benachrichtigung ein. Dieses Pop-up ist gleichzeitig jedoch auch ein Button um den Kopfhörer augenblicklich zurückzuholen.