"Meta unspools Threads"
Threads wird für mich spannend, wenn ich mit Ivory (oder anderen App-Store-Apps) dort Personen folgen kann, die es nie bis auf Twitter, geschweige denn Mastodon, geschafft haben. Noch ist das Activity Protokoll nicht eingeschraubt, und ich verstehe nicht, warum Meta seine "walled-garden strategy" hier aufgibt:
"There definitely are trade offs," Mosseri said. "You're giving up some control. But there are benefits. I do think over time, it's going to be a more compelling value proposition that other apps are going to offer. And I think that should attract more creative talent over the long run."
Dritt-Apps würden nicht nur "promoted accounts" und "ads" filtern, sondern auch iPad-kompatible Layouts anbieten. Man müsste nicht darauf warten, dass Threads eine chronologische, nicht-algorithmische Timeline bestehend aus selbstgewählten Followern anbietet.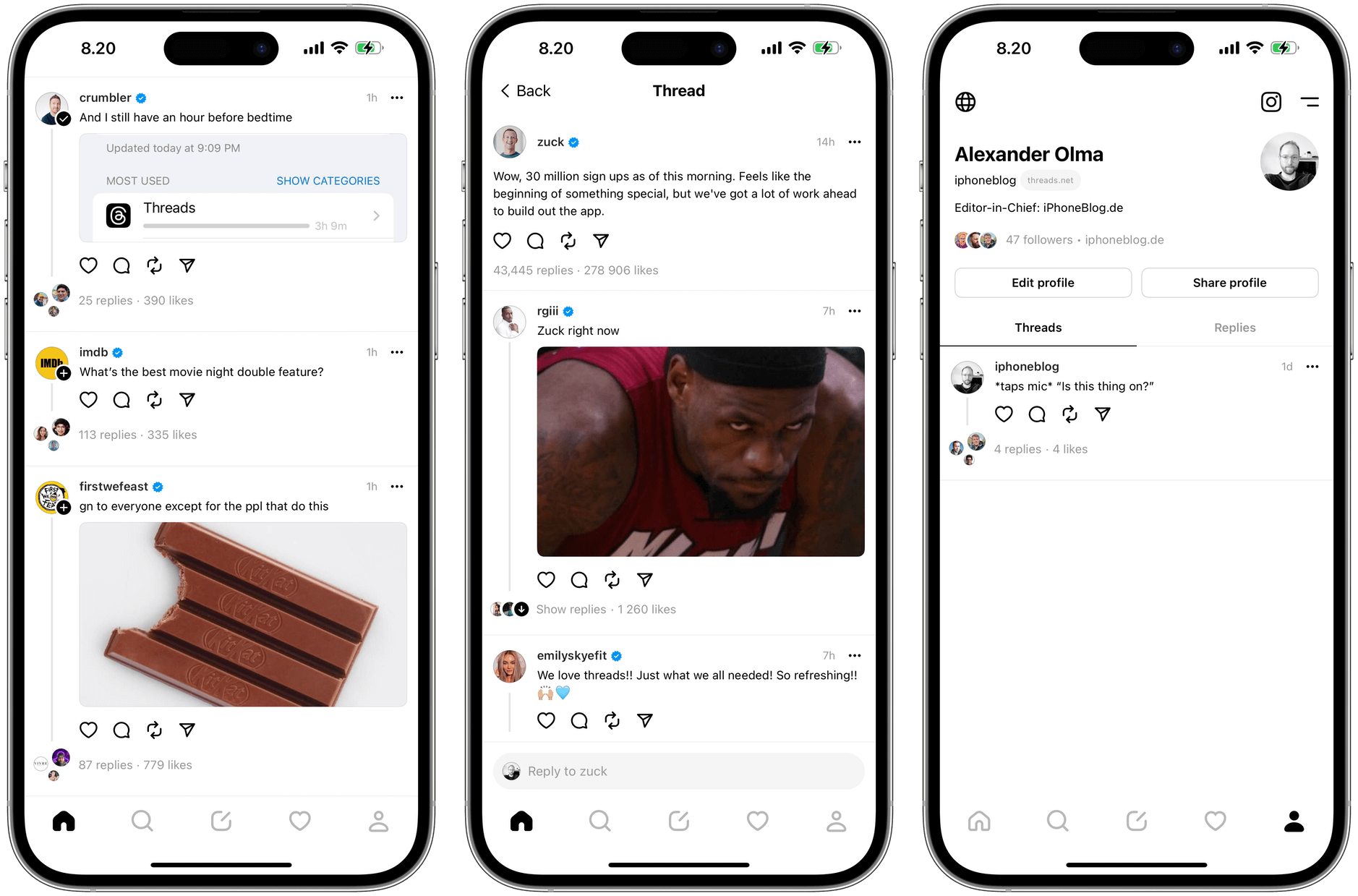 Die Release-Version merkt sich nicht eure Position auf der Zeitleiste, und sie spamt füllt diese Timeline mit Follower-Vorschlägen.
Mir ist absolut bewusst, dass das für Threads mehr Engagement liefert. Es ist ein dynamischerer Ansatz, der mehr unterhält.
Gleichzeitig limitiert es für mich seine Nützlichkeit, weil's dann wirklich nur Unterhaltung ist. Gegen Spaß ist rein gar nichts einzuwenden, aber dann investiere ich persönlich lieber mehr Zeit in meine RSS-Abos.
Bis wir dran sind, dauert es ohnehin noch "many, many many months":
"That's just going to take a while, unfortunately — and I'm particularly frustrated about this point, because I've been living outside of the US for a year now," said Mosseri, who has been working from London. "I've been on a total kick with my teams about stop launching things in only a couple countries, and not in other countries. … But in this case, it was either we wait on the EU, or delay the launch by many, many many months. And I was worried that our window would close, because timing is important."

via Casey Newton
Lädt man die iOS-App aus einem anderen App-Store-Land, verknüpft man sein Instagram-Konto problemlos. Aber machen wir uns nichts vor: Nicht die EU verzögert hier den Start, sondern Meta kam den (noch kommenden?) Vorgaben nicht nach.
Einigen EU-Entscheidungen stehe ich sehr kritisch gegenüber; der grundsätzliche Schutz von Nutzerdaten gehört jedoch nicht dazu.