Facebook zeigt Interesse an P2P-Payment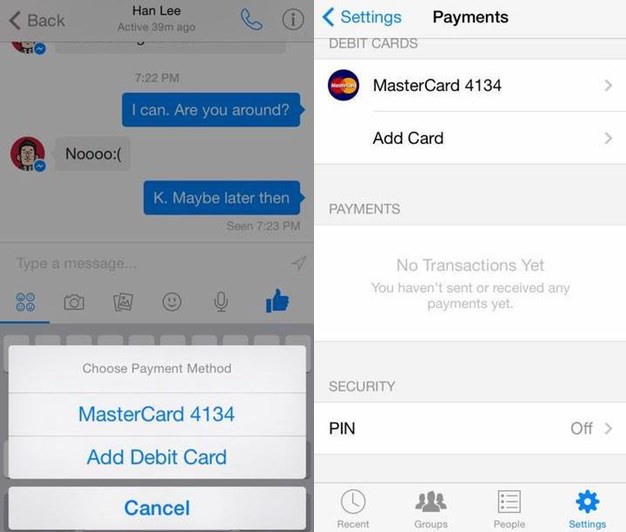 Private Betas? Facebook (ver‑)steckt zukünftige Features gerne gleich in der Live-App. Anfang September entdeckte Jonathan Zdziarski Hinweise im Quellcode der mittlerweile eigenständigen Messenger-App, um 'Geld an Freunde zu schicken'. Andrew Aude legte nun die Bezahloption, die Mark Zuckerberg im zweiten Quartalsbericht von 2014 erwähnte, weiter offen.
Messenger's payment option lets users can send money in a message similar to how they can send a photo. Users can add a debit card in Messenger, or use one they already have on file with Facebook. An in-app pincode also exists for added security around payments.
Alle tatsächlich spannenden Details, angefangen bei den Konditionen (Gebühren) über die unterstützten Zahlungsinformationen (teilnehmende Banken, Kreditkarten, etc.) bis zum Release-Fenster (US-only?), bleiben spekulativ. Die Financial Times berichtet schon im April von Zuckerbergs 'E-Money'-Initiative, die Partnerschaften mit Geldinstituten einschließt.
Spätestens jetzt macht die Abkapslung des Facebook Messenger (kostenlos; universal; App-Store-Link) von seiner Hauptanwendung sehr viel Sinn.