Q1/2015: 74.5 Millionen iPhones + 21.4 Millionen iPads
Previously…
Q1/2013: "Boom! BaDaBoom!"
Q1/2014: "Boom! BaDaBaDaBoom!"
And now…
Im zurückliegenden Weihnachtsquartal, das am 27. Dezember endete, verkaufte Apple 74.5 Millionen iPhones. Ein neuer (erwarteter) Rekord. Hier der Blick auf den Verlauf der letzten Jahre: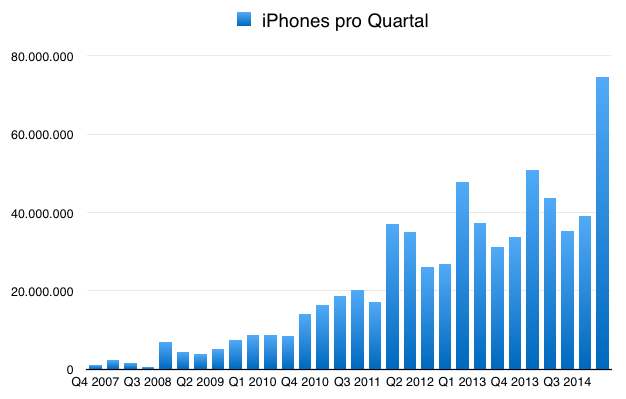 iPads rappeln sich trotz dem nur milden Update für das Mini 3 deutlich auf, übertreffen aber nicht das Vorjahresquartal.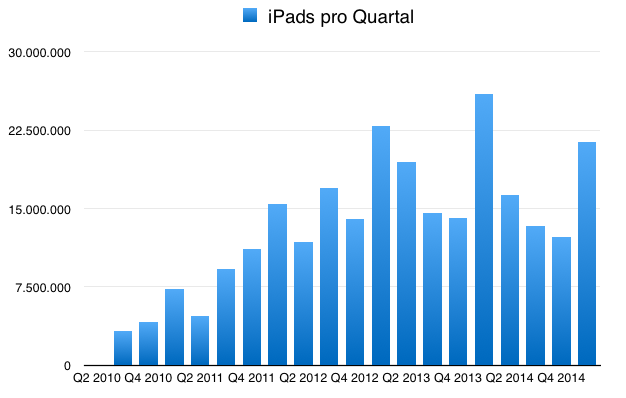 Kurz angemerkt: Apple verkaufte außerdem 5.5 Millionen Macs. Insgesamt schrieb Cupertino 74.6 Milliarden US-Dollar an Umsatz in seine Bücher. Der Nettogewinn beträgt 18 Milliarden US-Dollar oder 3.06 US-Dollar pro Aktie. Die Bruttogewinnspanne liegt bei 39.9-Prozent.
"We'd like to thank our customers for an incredible quarter, which saw demand for Apple products soar to an all-time high," said Tim Cook, Apple's CEO. "Our revenue grew 30 percent over last year to $74.6 billion, and the execution by our teams to achieve these results was simply phenomenal."
Um 23 Uhr deutscher Zeit lassen sich Tim Cook und Anhang in einer Telefonkonferenz zu ihren neusten Geschäftszahlen beglückwünschen.