"DuckDuckGo Taps Apple Maps"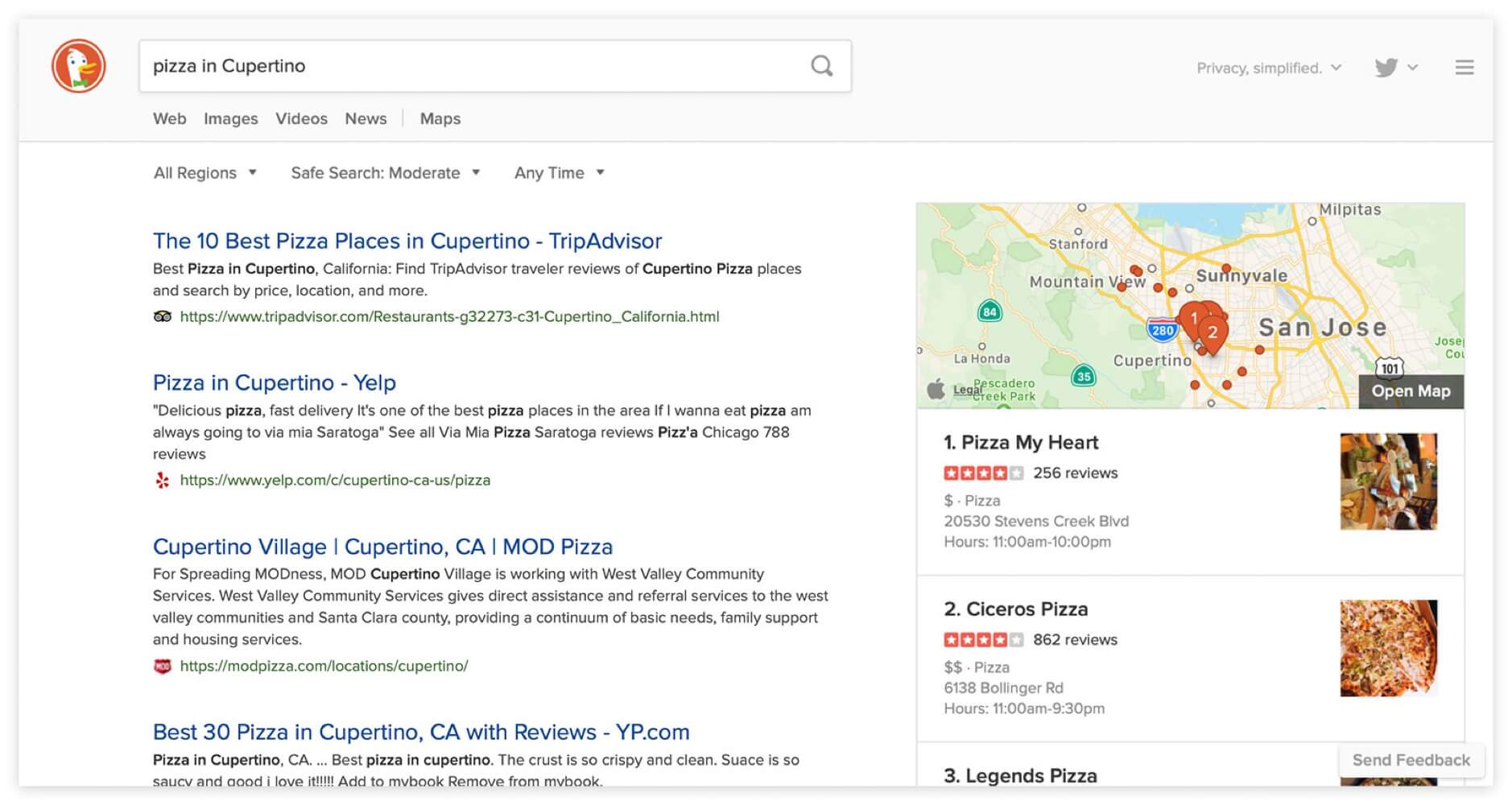 We're excited to announce that map and address-related searches on DuckDuckGo for mobile and desktop are now powered by Apple's MapKit JS framework, giving you a valuable combination of mapping and privacy. As one of the first global companies using Apple MapKit JS, we can now offer users improved address searches, additional visual features, enhanced satellite imagery, and continually updated maps already in use on billions of Apple devices worldwide.
Das Vertragswerk hinter der Partnerschaft ist (natürlich) nicht bekannt, aber ich wette: DuckDuckGo zahlt Apple keinen Cent für die unbegrenzte Nutzung1 von MapKit JS.
Apple passt der Deal nämlich nicht nur in die datenschutzfreundliche Grundstimmung, die Tim Cook seit einigen Jahren in die Welt trägt, sondern positioniert sich damit auch als Sponsor von einem Google-Gegenangebot. Die DuckDuckGo-Suchmaschine ist allerdings nicht nur ein einfacher Google-Gegenentwurf, sondern gleichzeitig ein Konkurrent, dessen Alleinstellungsmerkmal es ist, nicht Google zu sein. Sprich: Apple stärkt hier einen (kleinen) Mitbewerber ohne wirklich gegen Google aufzulaufen.
Wir dürfen nämlich nicht vergessen: Laut Tim Cook liefert Google "die beste Suchmaschine" und ist deshalb auf Apples Geräten die voreingestellte Standardsuche. Obendrein wird dabei sicherlich auch in Erwägung gezogen, dass Mountain View für diese Voreinstellung jedes Jahr eine stattliche Summe auf Apples Bankkonto überweist.